Democratic Primary Preview: 384 Delegates at Stake in Five States Tuesday
By 270toWin Staff
April 25, 2016
This is our overview of Tuesday's Democratic primaries. We've already published one for the Republican primaries.
Democratic voters in five East Coast states head to the polls on April 26th, as Hillary Clinton looks to build on her strong showing in New York last Tuesday. As in that state, the demographics and polls point toward another good day for her, one that will likely put her within a couple hundred delegates of clinching the Democratic nomination.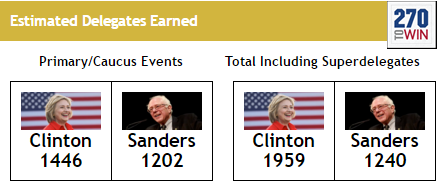 Clinton will enter Tuesday's contests about 250 ahead of Sanders in pledged delegates, a lead that grows to over 700 when including committed superdelegates. Clinton picked up 11 more of these after convincing win in New York. She now leads 513-38, with 163 uncommitted. Many of these uncommitted delegates have told the AP that they will support the candidate that win the most delegates from the primary and caucus events.

384 pledged delegates will be at stake in Tuesday's 5 primaries.
A recap of where things currently stand for each contest follows, beginning with a rough delegate projection based on polling averages*. As a reminder, all Democratic primaries allocate delegates (other than superdelegates) proportionately, with some based on the statewide result, some based on congressional district, if applicable**. The poll hours, all Eastern time, are believed accurate, but you should not rely on them to vote. (It does look like the polls close at 8PM in all five states). Click/tap a state name for more details.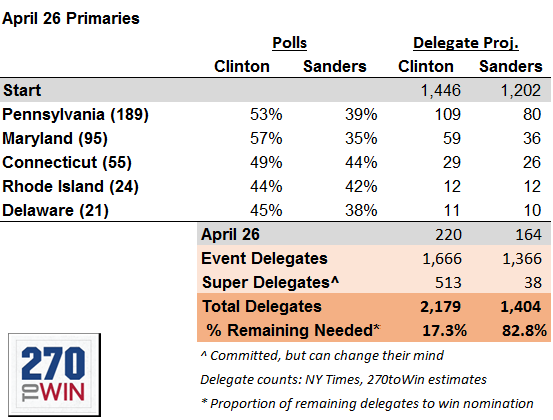 Pennsylvania (189 pledged delegates) The state has almost as many delegates as Tuesday's other four contests combined, which will make it the most closely-watched event of the day. Individual polls have bounced around a bit, but they all point to a Clinton victory. It looks like it may be a bit closer than last week's New York primary, which Clinton ended up winning by 16 points. Polls are open from 7AM to 8PM.
Maryland (95) Polls here have consistently placed Clinton in the upper 50's, averaging 57% to Sanders 35%. Looks like an easy win here for Clinton. Polls are open from 7AM to 8PM.
Connecticut (55) Polling has been limited here. All three surveys out in recent weeks give Clinton a single-digit lead, although the latest one, out Monday, is only 2 points, well within the margin of error.
Rhode Island (24) A poll out Monday gives Sanders a four point lead; it is the only current poll in any of the five states to show him leading. However, a separate poll out Sunday has Clinton ahead by 9. Polls close at 8PM; opening time appears to be 7AM in most of the state.
Delaware (21) The only poll, released last week, has Clinton up by 7. Polls are open from 7AM to 8PM.
If things play out roughly this way, Clinton will end the day about 300 ahead in pledged delegates. Factoring in superdelegates, she will only need about 200 more delegates to clinch the Democratic nomination. After Tuesday, the calendar gets lighter for the next several weeks, before culminating in June 7, a day that includes the huge California primary.
California polling has been pretty competitive. Additionally, there probably aren't enough delegates available before June 7 for Clinton to clinch outright (barring a commitment by most of the remaining superdelegates). Taken together, it leaves an opening for the Sanders campaign to continue until the end of the primary season should it so choose. His position could be strengthened by a win in California, although Clinton will likely clinch the nomination that day.
* Assumes the vote in each congressional district mirrors the statewide vote. This is unlikely to be the case, but with only two candidates involved, some of the differences should offset.
** In states with only a single congressional district, a proxy is sometimes used to create a similar regional split. In Delaware, the state does this by creating four subdivisions. There is one each for Kent and Sussex County, with New Castle County split into Wilmington and the remainder.
comments powered by

Disqus
Headlines