Updated 'Crystal Ball' Electoral Map Looks Promising for Clinton in a Match-up WIth Trump
By 270toWin Staff
April 1, 2016
The electoral map for a Clinton vs. Trump match-up in November points to a relatively easy victory for the likely Democratic nominee, according to an updated forecast by the team at Larry Sabato's Crystal Ball. This is their first attempt at projecting the 2016 election based on a match-up of current frontrunners.
The prior generic forecast looked a lot like the electoral map we've grown accustomed to in the last several presidential elections, favoring a Democrat by 247-206, with 85 electoral votes in toss-up states. The Clinton-Trump map eliminates all toss-ups, moving them to the Clinton column as 'Leans Democratic'. The ratings of seven other states, plus NE-2, were shifted in Clinton's direction.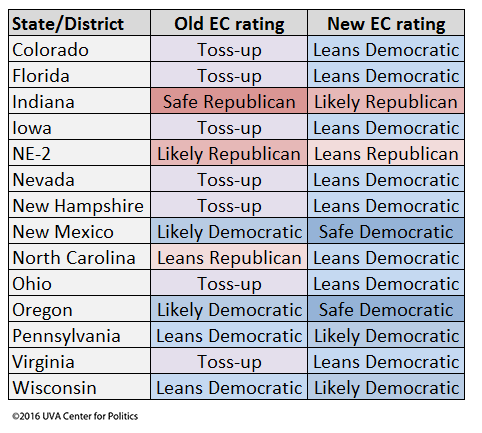 The article also discusses a possible Clinton-Cruz match-up. While this would likely be somewhat closer, Clinton would seem to be favored here as well. In either case, the polarized nature of the country makes a Democratic landslide, like in the 1964 Johnson-Goldwater election, unlikely.
An interactive version of the forecast map follows. Use it to create and share your own 2016 presidential election forecast.

Click the map to create your own at
270toWin.com
comments powered by

Disqus
Headlines