Cruz, Trump Split Four Super Saturday States While Sanders Wins Two of Three Over Clinton
By 270toWin Staff
March 6, 2016
Ted Cruz and Donald Trump split four states during yesterday's so-called 'Super Saturday' with Cruz winning more overall delegates largely on the strength of a very strong performance in the Kansas caucus.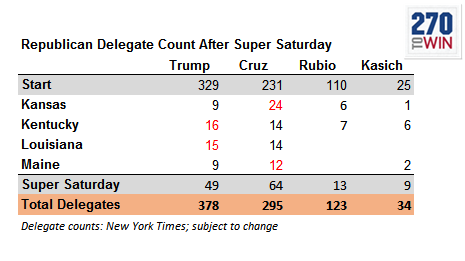 Cruz has emerged as the main conservative challenger to the long-standing Republican frontrunner, although Trump still leads the polls in most upcoming states, including the all-or-none states of Florida and Ohio on March 15. Polls can shift based on the results in preceding states, so it will be interesting to see if upcoming surveys show a different picture.
It wasn't a great night for Marco Rubio or John Kasich, although Kasich may be heartened by a poll out Saturday that showed him with a small lead in Michigan, which holds its primary on Tuesday.
For the Democrats, Bernie Sanders continues to perform well in caucus states, winning both Nebraska and Kansas. Clinton won Louisiana, the day's largest delegate prize.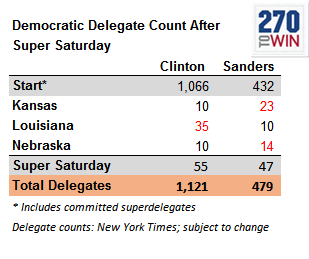 Next up is today's Puerto Rico Republican primary and the Maine Democratic caucuses. No polling is available, although Sanders would seem to have the edge in Maine, a caucus state with a demographic profile similar to other places he's done well. Sanders and Clinton will debate tonight on CNN at 8PM ET.
Puerto Rico polls are open 7AM to 1PM ET, while the Maine caucuses will run from 1PM to 8PM ET; ending prior to the Democratic debate.
comments powered by

Disqus
Headlines