Super Tuesday Democratic Polling Update
By 270toWin Staff
February 23, 2016
February 28: We've updated the information below: Go Here.
Yesterday, we discussed the Super Tuesday Republican contests.
Democrats will hold their primary in South Carolina on Saturday, which Hillary Clinton is expected to win handily. Super Tuesday follows, with over 20% of delegates that day. Here's a very quick update on the polling in each state. Democratic primaries generally follow the same proportional allocation formula, allocating some statewide, some by Congressional District, with a 15% minimum threshold.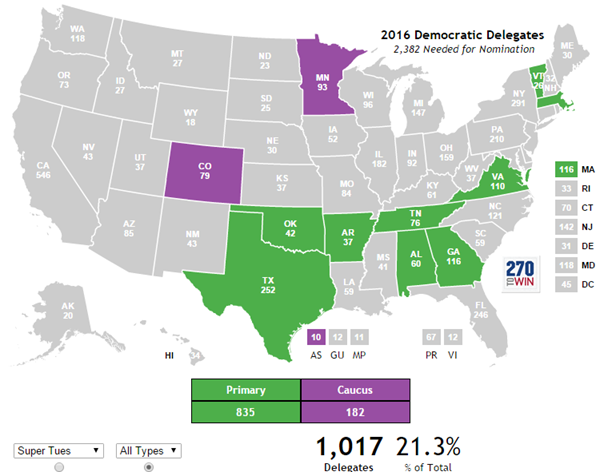 In the list below, the delegate numbers are totals for the Democratic Convention, they may not all get allocated on Super Tuesday. Select a state for details.
Public Policy (PPP) did a poll series for all the states with primaries on that date; in many cases the only polling available. The executive summary is that Clinton is set to do very well on Super Tuesday; she may only lose Vermont, although a couple other states may be competitive.
Alabama (Primary, 60 delegates): Clinton leads Bernie Sanders by 28 points in the PPP poll out last week (Solid Clinton)
Arkansas (Primary, 37): Clinton up 25 in this PPP poll (Solid Clinton)
Colorado (Caucus, 79): No recent polling; delegates won't actually be awarded until a later date
Georgia (Primary, 116): A couple polls over the past week have Clinton up by an average of 43 points (Solid Clinton)
Massachusetts (Primary, 116): Neighbor state to Sanders home; he leads polling by an average of 3.5% (Toss-up)
Minnesota (Caucus, 93): A late January poll showed Clinton up by 34 points (Solid Clinton)
Oklahoma (Primary, 42): One February poll had Clinton up 14, the other just two (Leans Clinton)
Tennessee (Primary, 76): Clinton up by 26 in PPP poll (Solid Clinton)
Texas (Primary, 252): Clinton's lead has been narrowing, but still up by 10 in a poll out today (Likely Clinton)
Vermont (Primary, 26): No contest here; Sanders leads his home state by about 70 points; may keep Clinton under 15% and win all the state's delegates (Solid Sanders)
Virginia (Primary, 110): PPP has Clinton up 22; another pollster has it at 12 (Likely Clinton)
March 1 will also see the American Samoa territorial caucus, with 10 total delegates.
comments powered by

Disqus
Headlines