February 19, 2016
South Carolina Republicans and Nevada Democrats will weigh in on Saturday as to who should represent their respective parties in the 2016 presidential election. The recap below includes polls of which we are aware through about 8AM ET on Friday.
South Carolina Republican Primary is February 20. There are 50 delegates, allocated on a winner take all basis (some statewide, some to the winner of each of the state's seven Congressional Districts).
There have been about 15 polls over the past week and, aside from a couple outliers, the results have been pretty consistent. Looking at the current 270toWin South Carolina average, Donald Trump appears poised to pick up the majority of the state's delegates. He's averaging about 32%. Ted Cruz and Marco Rubio are battling for second, with Jeb Bush, Jon Kasich and Ben Carson tightly grouped for the fourth spot.

Nevada Democratic Caucus is February 20. There are 43 delegates, allocated proportionately (some statewide, some in each of the state's four Congressional Districts).
Polling in Nevada is much more limited than in South Carolina, but what there is indicates a close race. Our Nevada average shows just 1.4 points separate Hillary Clinton and Bernie Sanders.

Nevada Republicans will caucus on Tuesday, the 23rd. Again with very limited polling, Donald Trump appears to be well out in front. The state's 30 delegates will be allocated proportionately.
South Carolina Democrats will hold their primary next Saturday, the 27th. Hillary Clinton looks to have her easiest victory thus far, she's averaging about 25 points ahead of Bernie Sanders. The allocation process is proportional (statewide and Congressional District), with 59 delegates available.
Looking ahead, Super Tuesday, March 1 will quickly follow. Over 25% of Republican and 20% of Democratic delegates will be available that day. Note that in some caucus states, such as Colorado, the date marks jus the beginning of an allocation process that could stretch over many weeks.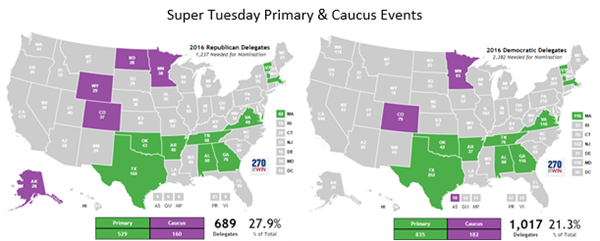 comments powered by

Disqus
Headlines