Highlights of a Busy Polling Weekend
By 270toWin Staff
November 22, 2015
As the Thanksgiving holiday approaches, a new batch of polls give us the state of the nomination races nationally and in some early voting states.
Republicans
National: Two polls out today, one from Washington Post/ABC News (WP/ABC) and one from Fox News give Donald Trump a 10 point lead over Ben Carson. Trump's 32% number in the WP/ABC poll matches the highest level of support he has received in any poll thus far. However, it is worth noting that this prior 32% was in last month's WP/ABC survey. The Fox poll saw less combined support for Trump and Carson (54% WP/ABC vs. 46% Fox) and more (28% Fox vs. 19% WP/ABC) for Rubio/Cruz. Cruz reached 14% in the Fox poll, tying Rubio and also tying his best performance to date. Most recent polls have these four candidates taking nearly 75% of voter support.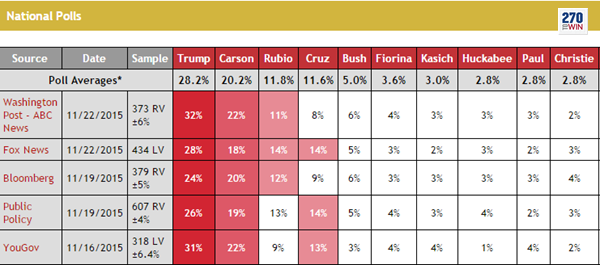 Early Voting States: CBS and YouGov released their latest Battleground Tracker series today, individually polling the early states of Iowa, New Hampshire & South Carolina.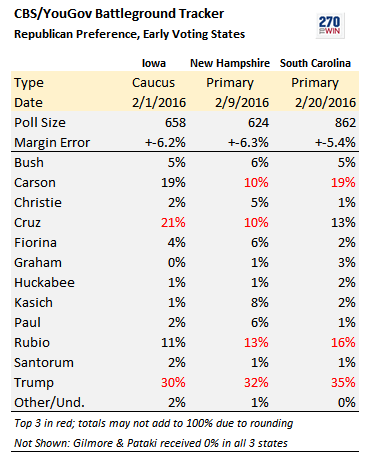 Notable here is Ted Cruz at 21% in Iowa; he was at 12% in the October CBS/YouGov poll. Much of that gain came at the expense of Ben Carson, who fell from 27% to 19%.
Finally, there was a separate New Hampshire poll from Suffolk University and Boston Globe. Trump led with 22%, double that of Marco Rubio, Ben Carson and Ted Cruz who were around 10%. This is in line with other recent live polls from that state. What was notable, however, was that the pollsters asked about preference if Mitt Romney were in the race. The 2012 Republican nominee dominated that survey, with 31% double that of second place Donald Trump, at 15%. Romney has repeatedly said he's not interested in running.
Democrats: Hillary Clinton maintains a dominant lead over Bernie Sanders, up by over 20% in both of today's polls.

comments powered by

Disqus
Headlines