Clinton Poll Numbers Ticking Back Up; Webb to Exit Democratic Race?
By 270toWin Staff
October 20, 2015
Following a solid debate performance, Hillary Clinton is back over 50% support in a new Democratic poll from ABC News & The Washington Post. Clinton's 54% was 12 points better than this same pollster's September survey. Bernie Sanders was at 23%, little changed from September, while Joe Biden lost 5 points and now sits at 16%. As noted yesterday, we expect Biden to run, but his seeming inability to decide may be wearing thin, particularly if Clinton is being perceived as past her recent difficulties.
While not seeing majority support, Clinton's numbers have been ticking up in most recent polls. The 270toWin average now shows her at 48.2%, almost double that of Sanders. The table below shows national polls since the beginning of October. Click or tap the graphic for full details, as well as links to polls from individual states.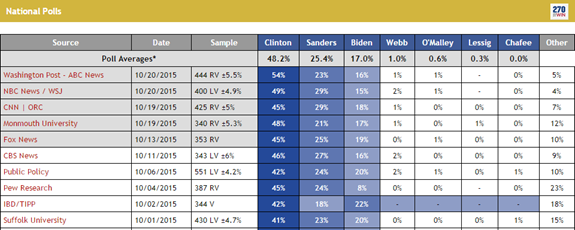 The other 4 declared Democratic candidates continue to see miniscule polling numbers. Former Virginia Senator Jim Webb, unhappy about the time afforded him to speak in last week's debate, has scheduled a news conference for 1PM ET today at the National Press Club. Webb is expected to announce that he is considering leaving the Democratic race and running for president as an independent.
While it is unlikely this would increase his near-term visibility, given the focus on the nomination process, Webb could eventually be influential as it relates to the swing state of Virginia, where he served as Senator from 2007 to 2013. Virginia was one of only 4 states to be decided by 5% or less in 2012.
comments powered by

Disqus
Headlines