Virginia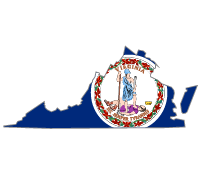 Virginia, one of the original 13 colonies and birthplace of four of the first five U.S. presidents, joined the Union in June 1788. In 1792, Virginia controlled 15.9% of all electoral votes, the largest concentration in U.S. history. The Commonwealth did not participate in the 1864 and 1868 elections due to secession. From the post-Civil War Reconstruction period through 1948, Virginians almost always sided with the Democratic Party in elections. However, from 1952 through 2004, Virginia was reliably Republican (except for the landslide of Lyndon Johnson over Barry Goldwater in 1964). What changed? In the early 1950s, Virginia politics was controlled by Democratic Senator Harry F. Byrd, Sr., and his political machine. For the 1952 cycle, Byrd announced he would not be endorsing a candidate, saying "Silence is Golden." People knew this meant that it would be okay to vote for the Republican Dwight Eisenhower.

Shifting demographics, including more rapid population growth around Washington D.C., have made the state a battleground in recent elections, perhaps one that now leans Democratic again. Barack Obama won here twice and Hillary Clinton made it three in a row for Democrats, winning by about 5.5% over Donald Trump in 2016.
Voting History
State voted with the overall winning candidate
Electoral College Votes
Colored bars represent electoral votes by party. Hover to see names. 2020 electoral votes shown in dark green until after the election.
Gray indicates available electoral votes that were either not cast or cast for a candidate not on the ballot.
An empty column indicates the state did not participate in that election.