Florida Legislature Passes DeSantis Redistricting Plan; Shapes Added to Interactive Map
By 270toWin Staff
April 22, 2022, 9:30 AM ET
The Florida Legislature passed a redistricting plan Thursday, sending it to Gov. Ron DeSantis (R). As the map originated from the governor's office, his signature would seem to be a foregone conclusion. As such, the new shapes have been added to the 2022 House Interactive Map.
The new map is quite favorable to Republicans, with the party expected to gain up to four seats in this fall's midterm elections. In that scenario, Democrats would lose three, as the state gained a district after the 2020 Census.
The graphic below compares the two maps. The new map is colored based on the spread between Joe Biden and Donald Trump in 2020, as calculated by Matthew Isbell, publisher of The MCIMAPS Report. That analysis shows 18 seats where Trump won by >5%. Districts 15 and 27, the only two seats decided by <5%, are both held by Republicans.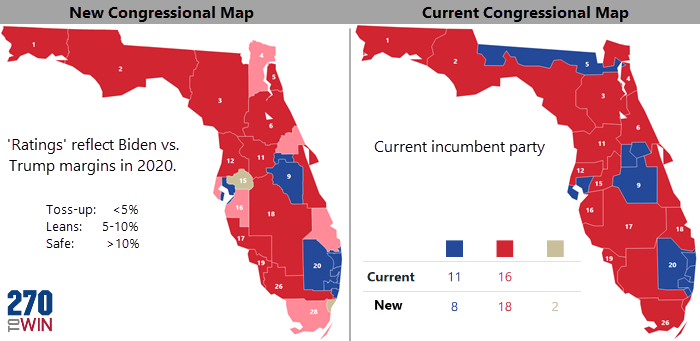 The map effectively eliminates the current District 5, which stretches across the northern tier of the state. It was shaped that way after court-ordered redistricting prior to the 2016 election and was intended to let Black voters elect a representative of their choice. Democrat Al Lawson is now in his third term there. The map also splits up Black voters around the Orlando area, likely eliminating a Democratic-held district there. (Current FL-10 Rep. Val Demings is running for the Democratic nomination for U.S. Senate).
Litigation is expected to explore whether the new plan violates the state's Fair Districts Amendments or the federal Voting Rights Act.
comments powered by

Disqus
Headlines