GOP Rep. Devin Nunes Resigns; Democrats Hold 221-212 Margin in House
By 270toWin Staff
January 4, 2022, 6:57 AM ET
Devin Nunes officially resigned from Congress Monday. The move comes four weeks after he announced his intention to depart. Nunes is leaving to helm Trump Media & Technology Group, which is preparing to launch TRUTH Social, a new social media platform.
There are now two vacancies in the U.S. House, with Democrats holding a narrow 221-212 edge. The other open seat, in Florida's 20th congressional district, will be filled via a special election next Tuesday. That safely Democratic district was previously represented by Alcee Hastings, who died in April, 2021.
The image links to the House Interactive Map; choose 'Current House' view to see the current composition: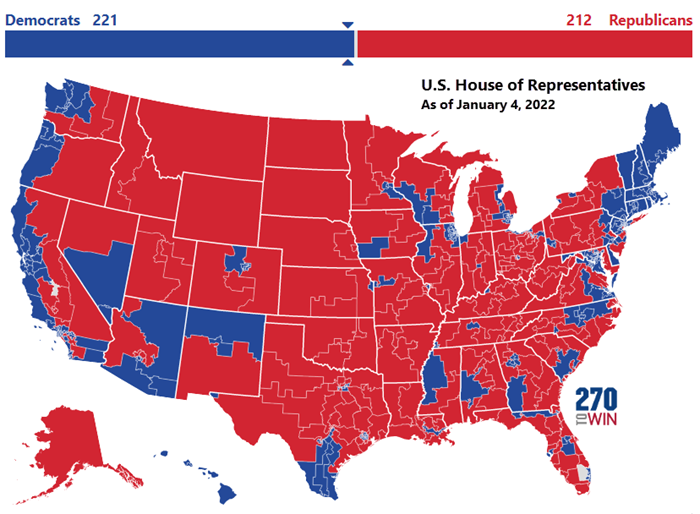 California District 22 Special Election
Within two weeks, Gov. Gavin Newsom will set the date for a special election to complete Nunes' term. Under California law, the election will be an all-party primary. If a candidate gets a majority of the vote, they are elected. Otherwise, the top two finishers will advance to the general election runoff.
The special election will be contested within the current boundaries of District 22, which is situated in the San Joaquin Valley. Nunes was reelected by about 8.5% in 2020. While the GOP will likely be favored in the special election, the district - now CA-21 - became significantly more Democratic-leaning in recent redistricting, which may make things difficult for a Republican incumbent should they choose to run again in November.
comments powered by

Disqus
Headlines