The Road to 270: Florida
By Drew Savicki
October 12, 2020
The Road to 270 is a weekly column leading up to the presidential election. Each installment is dedicated to understanding one state's political landscape and how that might influence which party will win its electoral votes in 2020. We'll do these roughly in order of expected competitiveness, moving toward the most intensely contested battlegrounds as election day nears.
The Road to 270 will be published every Monday. The column is written by Drew Savicki, a 270toWin elections and politics contributor. Contact Drew via email or on Twitter @DrewSav.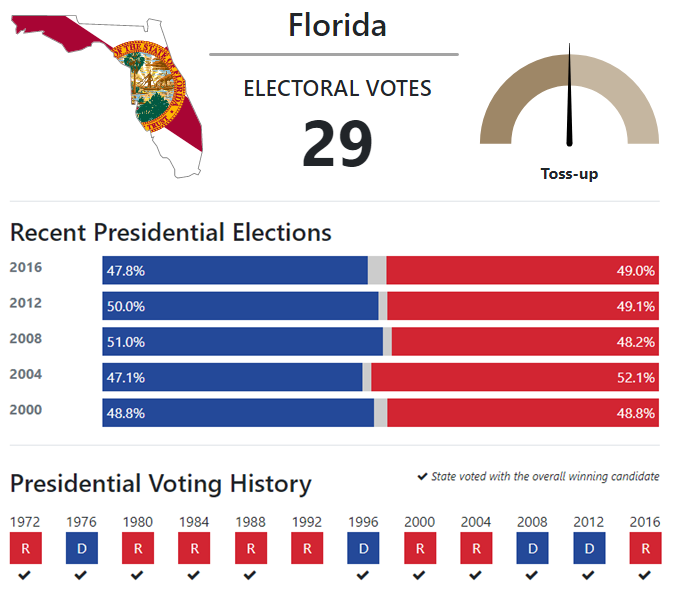 As the nation's largest swing state in recent decades, Florida enjoys considerable attention at all levels of government. Bolstered by its unique demographics, Florida is an unusual battleground. Its growing diversity is counteracted by the steady stream of white retirees moving in. The Sunshine State's tourism-based economy has been wrecked by COVID, throwing quite a wrench into this year's elections.
The Almighty I-4 Corridor
Covering much of central Florida, the term 'I-4 Corridor' refers to the counties in central Florida that follow Interstate 4. From 1996 to 2012, the I-4 Corridor was a key bellwether for how the state would vote. Florida elections used to live and die by it, although that changed in 2016. Bolstered by the growth of the Orlando area, the corridor has shifted leftward but not enough to offset Democratic losses elsewhere in the state.
Congressional politics
As the nation's largest swing state, one would expect Florida to be home to a number of competitive congressional districts, right? Well, not really. Forecasters like Sabato's Crystal Ball, The Cook Political Report, and Inside Elections rate no more than four seats as competitive this year. Thanks to a highly polarized electorate, Florida lacks a true swing district.
This year though, Florida is seeing a highly competitive congressional race in an unusual place -- Miami. Located in southwestern Miami-Dade County and taking in the Florida Keys, the 26th District, on paper, shouldn't be a close district -- but the area has some unique down-ballot quirks. Home to one of the largest populations of Cuban-Americans in the nation, FL-26 went for Hillary Clinton by 16% in 2016 but freshman Rep. Debbie Mucarsel-Powell (D) is facing a tight race from Miami-Dade County Mayor Carlos Gimenez (R). Although he voted for Clinton in 2016, Gimenez has the backing of President Trump and the Republican establishment. Cuban-Americans are the most Republican-leaning group of Hispanics in the country and are still willing to split their tickets. Although polling of Florida had suggested Trump was making gains among Hispanics, a recent New York Times/Siena College poll found no evidence of such a shift.
College-educated whites in Florida don't often receive much coverage, but the 7th District is a fine example of the Republican collapse among these voters. Now Chair of the moderate Blue Dog Coalition, two-term Rep. Stephanie Murphy has quickly locked down a blue-trending seat in the northern Orlando suburbs. Following court mandated redistricting, Murphy ousted longtime Rep. John Mica (R) in 2016 and handily defeated State Rep. Mike Miller (R) with 58% of the vote in 2018. The redrawn 7th District would have narrowly voted for Obama in 2012; it went for Hillary Clinton by 7%. Murphy's political future has been the subject of much discussion and it is worth nothing that Sen. Marco Rubio (R) is up for reelection in 2022. Murphy's background may play well in a statewide race. A moderate from the Orlando suburbs, she is the first Vietnamese-American woman in Congress. Earlier in her career, she worked in national security.
Two other districts that are worth mentioning as reach seats for Democrats this cycle are the 15th and 16th Districts, which the Crystal Ball rates as 'Leans' and 'Likely' Republican, respectively. After Rep. Dennis Ross (R) retired in 2018, the 15th District is once again open. Scandal plagued freshman Rep. Ross Spano (R) lost renomination to Lakeland City Commissioner Scott Franklin. The 15th district is located in the western and southwestern suburbs of Orlando. Democrats targeted this seat when it was open in 2018 but Spano prevailed 53%-47%. Democrats were discouraged when Spano lost his primary but both candidates remain relatively unknown, so forecasters are keeping this seat at Leans R right now.
In the Sarasota area, Rep. Vern Buchanan (R) is facing a challenge from Democratic State Rep. Margaret Good, who defeated his son in a 2018 special election. Buchanan won reelection by 10% in 2018, about matching Trump's 11% margin there in 2016. The 16th District is a clear reach seat but it remains just on the edge of the playing field.
For Republicans, a similar reach seat may be the 27th District. The least Cuban of the three majority Hispanic districts in south Florida, this district is represented by former HHS Secretary Donna Shalala. Shalala caused some fretting among Democrats in 2018 for her inability to speak Spanish and Republicans have a quality candidate in Maria Elvira Salazar, a local news reporter. But in a district that Hillary Clinton carried 58%-38%, it's unlikely Republicans will take reelection away from Shalala.
Going back to the I-4 Corridor, a seat Republicans would very much like to flip is the 13th District. Based in St. Petersburg and taking in much of Pinellas County, the district is represented by political chameleon and former Gov. Charlie Crist (R/I/D). Thanks to its large population of older non-college educated whites, this district swung heavily towards Trump in 2016 but there's no sign Crist is in danger. An affable retail politician, Crist is well-known in the area. A mid-decade redistricting made this seat more Democratic, and Crist defeated then-Rep. David Jolly (an anti-Trump Republican who has since left the party). After the GOP's favored candidate lost the 2018 primary, Crist had an easy reelection. Thanks to his strength among older voters, polling has shown Biden outpacing Clinton here and returning to Obama era margins. Crist appears to be running slightly ahead of Biden. The Crystal Ball recently upgraded this race from 'Likely Democratic' to 'Safe Democratic' and voters don't seem to mind Crist's ever changing party affiliation. With the defeat of Mark Sanford (R) in 2018, Crist is the only former Governor serving in the House.
Although not a competitive district, Florida's 20th District (Fort Lauderdale, West Palm Beach) has drawn considerable attention. Rep. Lois Frankel (D) is being challenged by far right activist Laura Loomer. Loomer, who is banned from all major social media sites, has the backing of President Trump in what is now his home congressional district. This district went for Hillary Clinton by 20% in 2016. Frankel is likely to run ahead of Biden against such a poor quality opponent.
Stylistically, Florida's two senators could not be more different, and are not known for their strong working relationship. Florida's senior Senator is Marco Rubio. The son of Cuban immigrants, Rubio served as Speaker of the Florida House before he was elected to the U.S. Senate in 2010. In 2010, Rubio fashioned himself as a Tea Party conservative but in his 2016 presidential bid, he pitched himself as the establishment alternative to former Florida Gov. Jeb Bush. Rubio's presidential campaign never really got far -- electorally, he ended up competing with Ohio Gov. John Kasich for suburban votes. Diehard conservatives had always viewed him with skepticism so he was never able to win Ted Cruz's voters. Prior to his run for President, Rubio was really hyped up as the next big thing in the GOP but like many rising stars, he struggled on the national stage.
In the Florida primary, Rubio suffered a devastating setback when he lost his home state in a landslide to Donald Trump. Rubio decisively won his home county of Miami-Dade but struggled elsewhere. Unfortunately for Rubio, Hispanics are not a major voting bloc in a Republican primary. In the Senate, Rubio has shown an interest in foreign policy. After North Carolina Sen. Richard Burr stepped down from chairing the Senate Intelligence Committee earlier this year, Rubio now serves as Acting Chairman until the next Congress -- he is also Chairman of the Small Business Committee. It seems very likely Rubio will mount a second presidential bid in 2024, but first he'll have to face reelection in 2022.
Florida's junior Senator is former Governor Rick Scott (R). Scott was elected in 2018 when he defeated three-term Sen. Bill Nelson (D). Compared to Rubio, Scott is more showy, and spends a significant amount of time appearing on Fox News. Before Scott prevailed by about 10,000 votes in the 2018 Senate contest, he won two terms as governor by razor-thin margins. Still, he's a staunch supporter of the President and rarely breaks from the party line. He has also been mentioned as a possible 2024 candidate for President.
State level politics
For over 20 years, Republicans have dominated the state government in Florida -- despite the strong efforts of Democrats every four years, the governorship consistently eludes them. In 2018, now-Gov. Ron DeSantis decisively won the Republican primary over then-state Agriculture Commissioner Adam Putnam. At the time he entered the race, DeSantis was a little-known Congressman but campaigning near exclusively on Fox News landed him the endorsement of President Trump. An endorsement from the President is a powerful tool for a Republican, especially in Florida. A former congressman himself, Putnam had been preparing his bid for Governor for years and initially he looked to be on a glide path to the nomination.
In the general election, DeSantis was narrowly elected over then-Tallahassee Mayor Andrew Gillum, who upset former Rep. Gwen Graham in the Democratic Primary. Gillum was bogged down in scandals over his tenure in office. As governor, DeSantis has governed as a pro-Trump conservative. Prior to the COVID-19 pandemic, DeSantis ranked among the nation's most popular governors but with his approval ratings having since dropped, his political future remains unclear. Several Democrats have expressed interest in running for Governor in 2022: Graham may run again and the lone statewide Democrat in Florida, Agriculture Commissioner Nikki Fried, is someone to watch. Like Scott and Rubio, DeSantis has not been shy about his own ambitions and he is also considered a likely contender for the GOP nomination for President in 2024. Three Florida Republicans vying for the White House in 2024 would be something to watch.
Republicans have controlled the Florida legislature since 1997 and that seems likely to remain the case after this year. Democrats face a geographic disadvantage, with their voters clustered in a few urban areas. Republican voters are dispersed throughout the state. Florida has remained a Republican trifecta since 1999 and 2022 is Democrats next opportunity to win back the governorship, though Florida stubbornly remains slightly right of center.
Florida voters will weigh in on a handful of state constitutional amendments next month, but one notable measure is Amendment 3. If passed, elections in the state would be run under Louisiana-style jungle primary rules. To pass, constitutional amendments must clear 60% of the vote.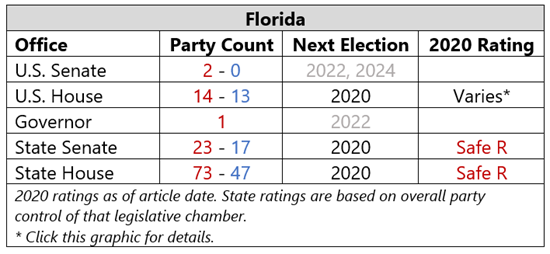 Presidential politics and 2020 outlook
For much of its history, Florida voted like the rest of the 'Solid South' -- that's to say overwhelmingly Democratic. Beginning with the post-war boom of the late 1940's, Florida's population skyrocketed, and the state would vote Republican for the next 40 years, with just two exceptions: 1964 and 1976.
Florida's status as a modern battleground began in 1992, when George H.W. Bush narrowly edged Bill Clinton. Each election since has been decided by six points or less, most famously the 2000 election. After much controversy and litigation, George W. Bush carried the state by 537 votes, out of nearly 6 million cast. The shifting demographics and the steady stream of conservative retirees has kept Florida as one of the nation's most competitive in each election since then. The state should be close this year, regardless of the national picture, so let's consider some counties to watch:
Pinellas County (St. Petersburg, Clearwater): Pinellas County narrowly voted for Trump after going for Obama in 2008 and 2012, but Joe Biden seems likely to flip this county back into his corner. It isn't a must-win for Trump but it is for Biden. Polling shows Joe Biden doing quite well in the 13th district portion of Pinellas, which only went for Hillary Clinton by 2% in 2016.
Sumter County (The Villages): Home to the nation's largest retirement community, Sumter is solid red but it's important to watch the margins. Polling shows the dam is breaking against Trump among older voters and Sumter is retiree central. If Biden can cut down the margins here, he's likely on his way to a statewide victory.
Duval County (Jacksonville): One of the few Dem trending counties in the state, Jacksonville is a prime pickup opportunity for Joe Biden. Although overshadowed by Orlando and Miami, Jacksonville is in fact Florida's largest city (though Jacksonville and Duval County are coterminous). After voting for Rick Scott 54%-41% in 2014, Andrew Gillum carried Duval 52%-47% in 2018 and Senator Bill Nelson (D) carried it 51%-49%. Trump carried Duval by one point in 2016 but it's hard to see him winning it again.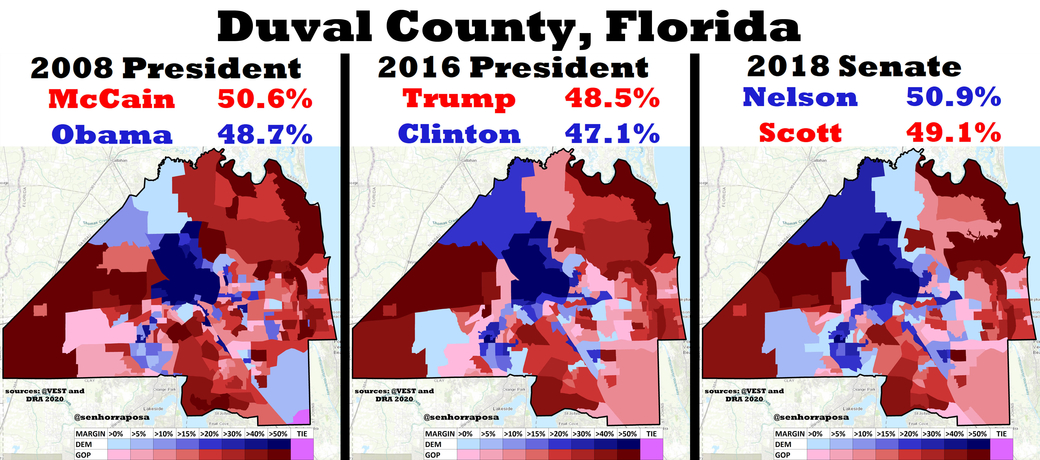 Miami-Dade County: Although Bill Nelson outran Hillary Clinton in much of the rest of the state, his underperformance in Miami-Dade cost him reelection. Instead of winning it by Clinton's 29-point margin, Nelson won it by 21%, which wasn't enough to win statewide. For Joe Biden to win Florida, he must win Miami-Dade by somewhere in-between Clinton and Nelson's margins while improving in the state's other metro areas. There are some signs that Trump has improved his standing among Cubans since 2016 and any erosion in support among them could cost Biden the state and thus the presidency.
A final note on how population shifts have impacted the electoral map: Florida will almost certainly supplant New York as the state with the third highest number of electoral votes effective with the 2024 election. Just 75 years ago, after World War II, New York had 47 electoral votes, most in the country. Florida had just eight.
---
Three weeks until the presidential election. We'll wrap up the Road to 270 with North Carolina, home state of @DrewSav.
Next Week:

Iowa
October 26: Georgia
November 2: North Carolina
Reports in this series:
comments powered by

Disqus
Headlines