New York Moves Primary to June 23; Majority of Remaining Delegates Now to be Allocated that Month
By 270toWin Staff
March 28, 2020
New York will delay its presidential primary and 27th congressional district special election from April 28 to June 23. That is the previously scheduled date for the state's non-presidential primaries. The congressional seat has been vacant since Rep. Chris Collins resigned last September.
With this move, a rescheduled Ohio contest is the only one remaining on April 28, which was to have been the second busiest day on the 2020 Democratic calendar. That now looks to be June 2 with 686 pledged delegates available across 10 states and Washington, D.C. The month of June now potentially has 1,075 delegates up for grabs, almost 2/3 of the 1,668 remaining from contests not yet held.
We say potentially because Louisiana, Kentucky and now New York have scheduled their contests after June 9, the latest allowable date per Democratic Party rules. It is possible the states could be penalized with a loss of half of their delegates. That seems unlikely given the situation, but those are the rules as written.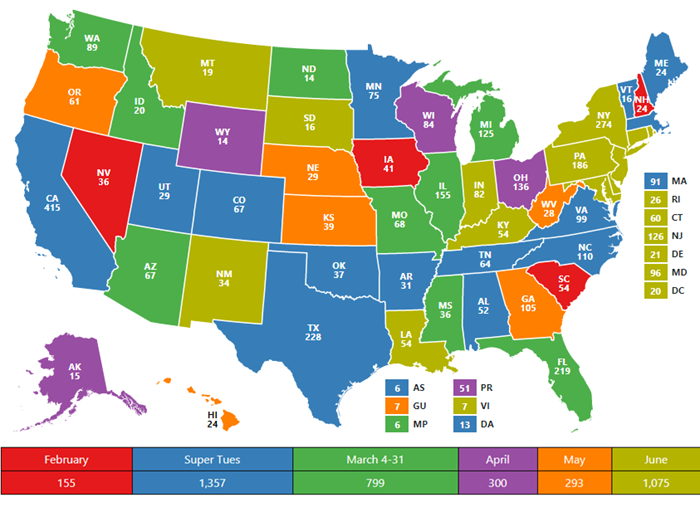 Separately, Hawaii has moved the deadline for its now all-mail primary from April 4 to May 22. This leaves Wisconsin, on April 7, as the next primary on the schedule. Whether this can go forward in a way that doesn't disenfranchise many voters remains to be seen.
Delegate Update
As of March 28, per NPR and Associated Press, Joe Biden has a 303 delegate lead over Bernie Sanders. 1,677 delegates remain (including 9 from completed contests). Biden needs to win just over 46% of those to clinch the Democratic nomination.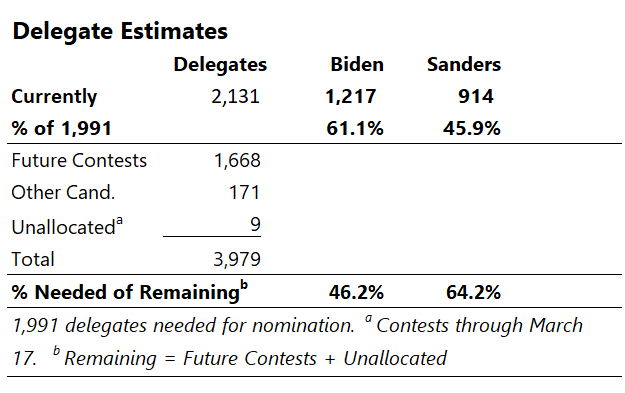 comments powered by

Disqus
Headlines