How a Sanders Nomination Might Impact the Electoral Map
By 270toWin Staff
February 27, 2020
Most presidential election forecasts at this point - and thus the consensus electoral map - are based on a generic Democratic nominee against President Trump. That means the forecasts are largely driven by history, with some consideration given to the incumbent's popularity and the state of the economy. It is also why there aren't that many forecasts yet and why those that have been released have not shifted very much.
All of that will begin to change once we know who the Democratic nominee will be, as each has strengths and weaknesses that will impact their likelihood of prevailing in the battleground states.
To that end, Sabato's Crystal Ball is out with a hypothetical preview of how its Electoral College ratings might shift if Vermont Senator Bernie Sanders becomes the presumptive nominee. They see the southern states of Georgia, Florida, North Carolina and Texas being less attainable Democratic pickups in 2020. These 98 electoral votes could shift from Leans to Likely Republican. Virginia is seen as moving from Likely to Leans Democratic. Arizona and Nebraska's 2nd District - could move from Toss-up to Leans Republican.
These last two changes would shift the total from 248-248 to Trump 260, Sanders 248 and leave just Pennsylvania and Wisconsin as toss-ups. In this scenario, Sanders would need to win both of these states. In sum, they see Sanders with a narrower path to 270 electoral votes - at least initially - reflecting how his policies might play in battleground Sun Belt states.
Read their full analysis here.
The first map below is the current Crystal Ball forecast, adjusted for these possible adjustments. Click or tap for an interactive version.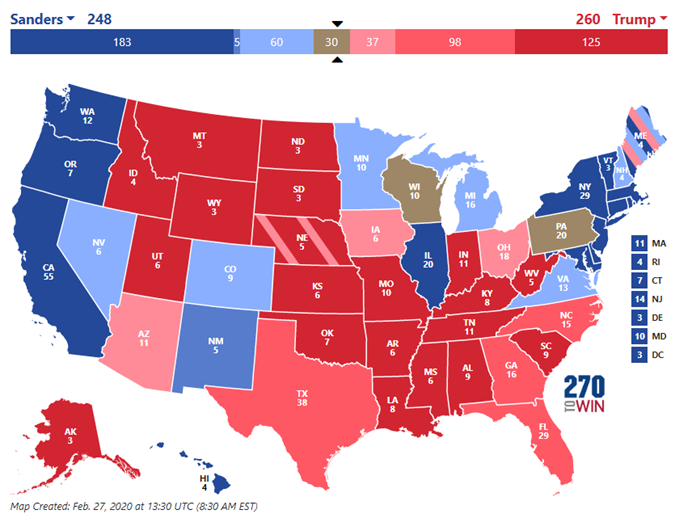 For comparison, here are the official Crystal Ball Electoral College ratings as of February 27. Click or tap for an interactive version (which will reflect the ratings in effect when you view the map).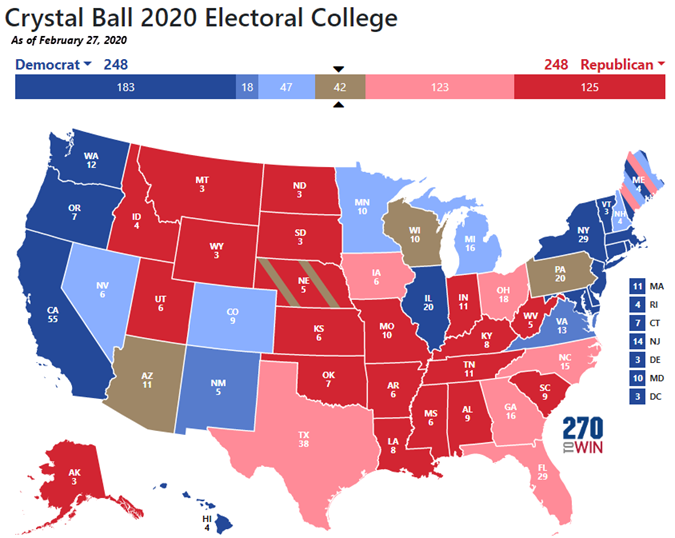 comments powered by

Disqus
Headlines