GOP Heads to Primary Runoff in NC-3 Special Election
By 270toWin Staff
May 1, 2019
Tuesday's Republican primary in the vacant North Carolina 3rd district will head to a July 9 runoff, as no candidate in the large field reached 30%. Moving on are the top-two vote getters, State Rep. Greg Murphy and pediatrician Joan Perry. On the Democratic side, former Greenville Mayor Allen Thomas won with 50% of the vote; he will meet the eventual GOP nominee in the September 10th special election.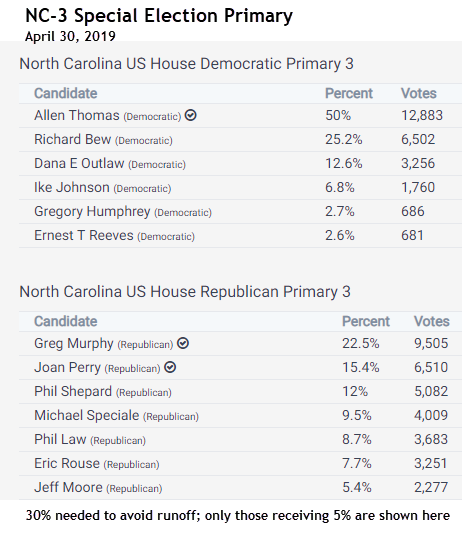 This seat has been vacant since the February death of long-time Rep. Walter Jones. This is a conservative district; the eventual GOP nominee will be favored to hold the seat for the party. In 2016, Donald Trump won by 24% over Hillary Clinton. In 2018, Jones ran unopposed for his 12th term, one of the only Republicans to not have a challenger that year.
Other Vacancies
Two other House vacancies will be filled in the months ahead. Staying in North Carolina, the state's 9th district will hold a primary on May 14. This seat has been open since the new Congress was seated in January, as the November election results were thrown out due to election fraud. The Democratic nominee from November, Dan McCready is running unopposed. The GOP field is much larger, and a runoff here may be needed. The special election will be September 10, unless a runoff is required (30% needed to avoid), in which case it will be November 5. The now-discarded race from November had McCready and Republican Mark Harris separated by fewer than 1,000 votes; the special election is also expected to be highly competitive.
On May 21, a special election will be held in Pennsylvania's 12th congressional district. This is to fill the seat vacated by GOP Rep. Tom Marino, who resigned in January. No primaries were held; nominees were chosen by each party. State Rep. Fred Keller (R) will meet Democrat Marc Friedenberg, a college professor. Friedenberg was the Democratic nominee in 2018; he lost 66% to 34% to Marino. This seat is likely to remain with the Republicans.
comments powered by

Disqus
Headlines