Uncalled Races Update: Sinema Takes Small Lead in Arizona
By 270toWin Staff
November 9, 2018
U.S. Senate and Governor
As the vote count continues, Democrat Kyrsten Sinema has taken a small lead over Republican Martha McSally in the Arizona Senate race. Several hundred thousand ballots sent by mail are dropped off on Election Day, and these take time to be counted. Overall, approximately 400,000 ballots remain to be tallied.
Arizona U.S. Senate
Elsewhere, Florida's Senate race is likely headed for a hand recount, with the margin under 0.25%, while the gubernatorial race may get a machine recount, with a margin of under 0.50%. The Associated Press, as well as our results partner, Decision Desk, called the gubernatorial race for Ron DeSantis, and Democrat Andrew Gillum has conceded. A machine recount isn't likely to change that outcome, although this is Florida so one can never be sure.
Things are a bit less clear on the Senate side, with the closer total and the prospect of a hand recount. The Associated Press has not called this race, and Nelson has not conceded. Decision Desk has called the race for Scott, and you will see that in the Florida vote counts. However, we have left the state undecided in our interactive 2018 Actual Senate map.
Meanwhile, the gubernatorial race in Georgia remains undecided. Republican Brian Kemp resigned as secretary of state Thursday. Kemp has 50.3% of the vote, to 48.7% for Stacey Abrams. As we've previously noted, the issue here is not whether Kemp will have the most votes, but rather whether he will stay above the 50% threshold needed to avoid a December runoff.
U.S. House
Four more races were called overnight, leaving 10 undecided. GA-6, MI-8 and NJ-7 went to Democrats, while IL-13 was won by the GOP. Democrats have now won 227 seats, Republicans 198. That's a net gain of 32 for Democrats. All 10 of the undecided races are currently held by the GOP. (Vote Counts for Uncalled Races >>).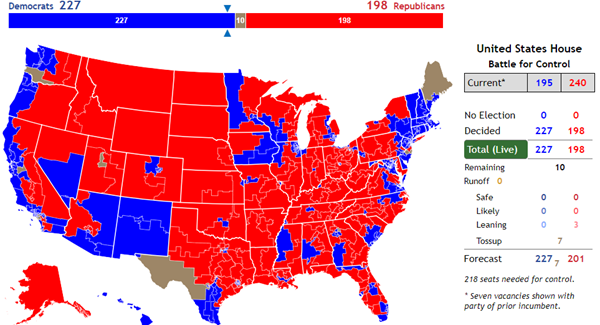 Related: 2018 Actual Interactive House Map
comments powered by

Disqus
Headlines