March 9, 2018
The Mississippi Senate special election has been added to the Senate Interactive Map. The winner of that seat will complete the final two years of Sen. Thad Cochran's term. Cochran announced he will resign as of April 1st. Mississippi's Gov. Phil Bryant will appoint a temporary successor who will need to participate in November's election should they wish to continue to serve.
There are now 35 Senate elections that will take place on November 6th. Democrats hold 26 of these seats, Republicans 9. To win control, Democrats must gain two seats. As we've noted many times, it is an uphill climb. The most likely path is to hold all 26 seats, and flip Arizona and Nevada. Falling even one short of that would require a major upset in a deep-red state such as Texas or Tennessee.
While the 2018 environment favors Democrats, running the table in 26 party-held seats means winning in ten states where Donald Trump won in 2016, including five where he won by 18% or more. These include West Virginia (Trump by 42%), North Dakota (36%), Montana (20%), Indiana (19%), and Missouri (19%). An Axios/Survey Monkey series of polls this week showed Trump's approval remains above 50% in all those states with the incumbent Democrat trailing. The Senate heats were mostly against a 'generic' Republican at this point, so we wouldn't get too caught up on any single result. The larger point is that Democrats cannot afford even a single misstep in some very difficult states for them.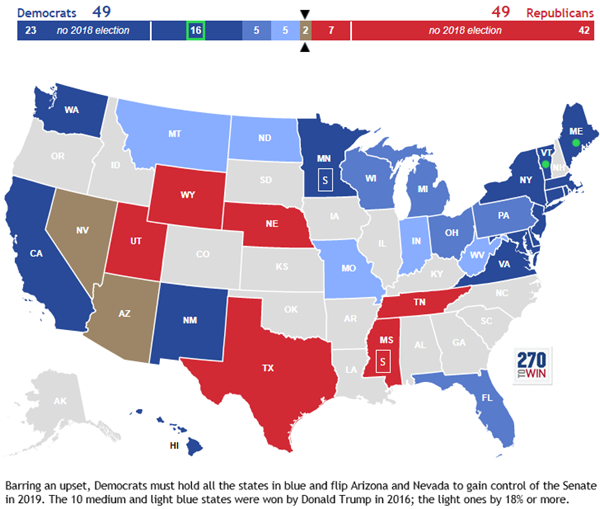 Here's how each race is currently rated by Sabato's Crystal Ball, Inside Elections, and The Cook Political Report. The table on the left lists any race where one or more of the pundits thinks it is or could be competitive. Conversely, the bottom right lists the 17 races that are safe for the incumbent party. The table at top right summarizes everything. There are currently 14 races with one or more leaning/toss-up rating. This number should decline as the individual match-ups become known.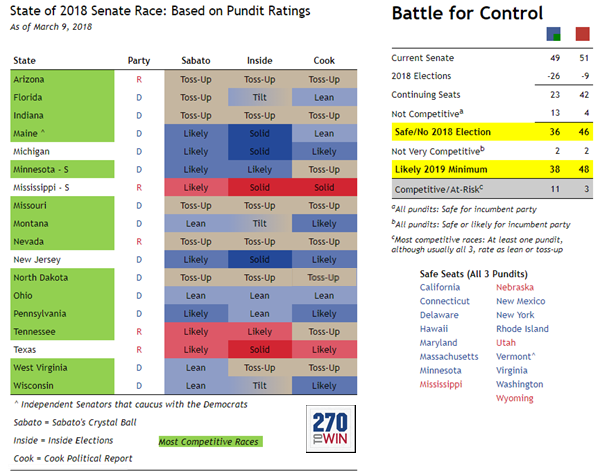 comments powered by

Disqus
Headlines