Citing Health Problems, Sen. Thad Cochran of Mississippi to Resign April 1
By 270toWin Staff
March 5, 2018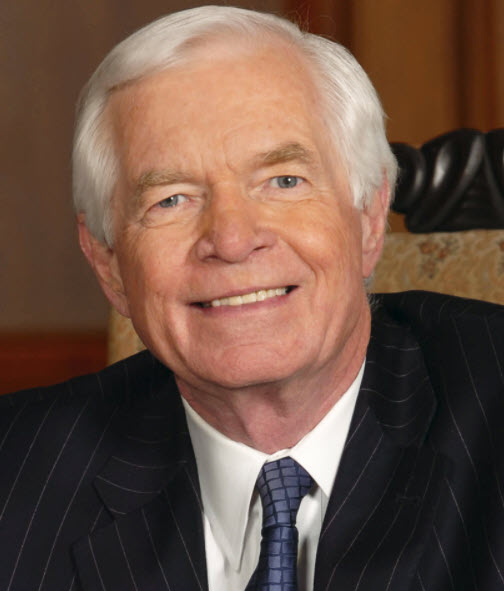 Seven-term Sen. Thad Cochran, Chairman of the Senate Appropriations Committee, announced he will resign his seat on April 1st. Cochran, 80, cited health problems in announcing the decision, according to The Associated Press. The Mississippi Republican is currently the 3rd most senior member of the Senate, behind only Democrat Patrick Leahy of Vermont and Republican Orrin Hatch of Utah. Hatch has previously announced he will retire at the end of 2018.
The Republican Gov. Phil Bryant will appoint a temporary replacement. A special election will be held on November 6th, coincident with the 2018 midterms. The winner of that race will serve the remainder of Cochran's term, which will next be contested in 2020.
Mississippi joins Minnesota with both Senate seats up for election in 2018. Republican Roger Wicker is running for a 3rd term in the regularly scheduled election. That seat is safely Republican. Sabato's Crystal Ball is starting the special election race as 'Likely Republican', although it is worth noting that no state in this 'double-barrel' situation has elected Senators of different parties since 1966.
That the rating is 'likely' instead of 'safe' could partially be due to one quirk of Mississippi special election law. There will be no party primaries and the November 6th election will be nonpartisan. All candidates will run on a single ballot, with party affiliations not listed. If no candidate exceeds 50%, the top two will meet in a runoff. If that involved a Democrat vs. a controversial Republican, there's at least a small chance of a repeat of an upset like we saw in neighboring Alabama late last year.
There will now be 35 Senate seats contested in 2018; 26 are held by Democrats and 9 by Republicans. We'll be updating the Interactive Senate Map in the days ahead to reflect this new race.
comments powered by

Disqus
Headlines