February 28, 2018
We've updated the 2018 House Interactive Map to reflect the redrawn boundaries for Pennsylvania's 18 congressional districts. Unless blocked by the Supreme Court, these borders are expected to be in place for both the 2018 and 2020 elections. For more information on how we're handling the changes on the map, see 2018 Pennsylvania Redistricting.
The revised map is somewhat more favorable to Democrats, particularly given the overall political environment. That party is also benefiting from departures, as four of 12 Republican incumbents are not seeking re-election. An analysis by Sabato's Crystal Ball goes into detail. At a high level however, there are now five safe Democratic seats and one likely Democratic. In addition there are now three toss-up districts in the Philadelphia area. Contrast that to the five seats Democrats hold today and a gain of anywhere from one to four seats seems plausible.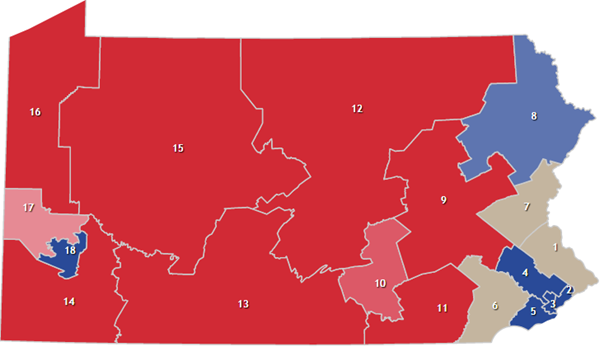 Note that the March 13th special election in the vacant 18th district will take place within the old boundaries. That race, in a district Donald Trump won by 20 points in 2016, was moved to toss-up this week by The Cook Political Report. The old 18th is now largely the new 14th district, which is even more Republican-leaning. The Sabato article discusses the implications for this race on November. The main takeaway is that if the Democrat Conor Lamb wins, his best bet to stay in Congress is to run in the 17th district against Republican Keith Rothfus.
The new Pennsylvania borders could also prove to be critical in who controls the House after the midterms. Looking at the entire country, Republicans currently control 238 seats, 20 more than the 218 required when there are no vacancies. (There are currently four opens seats, including the aforementioned one in Pennsylvania). The latest projection for November has Republicans at least slightly favored in exactly 218 seats, the lowest it has been this entire cycle.

comments powered by

Disqus
Headlines