November 5, 2017
Election Day on Tuesday will see gubernatorial elections in New Jersey and Virginia, as well as a special election to fill a vacancy in Utah's 3rd congressional district. The Virginia race is highly competitve, the other two less so.
Virginia Gubernatorial Election: Incumbent Democrat Terry McAuliffe is term-limited. Lieutenant Governor Ralph Northam will represent the Democrats, while former Republican National Committee Chairman Ed Gillespie is the Republican nominee. Gillespie lost a 2014 race for U.S. Senator from Virginia, although the race against incumbent Mark Warner was much closer than expected. Warner prevailed by less than 1%.
Most of the final polls give Northam a small lead; the Real Clear Politics Average has Northam up by 3% (as of late morning Nov. 6). Sabato's Crystal Ball and The Cook Political Report have the race rated as 'Leans Democratic. Inside Elections calls it 'Tilt Democratic' - this is a categorization between toss-up and lean that the other two pundits don't use. Polls are open from 6:00 AM to 7:00 PM Eastern Time.
CNN breaks the race down by geography, noting that Northam should perform very well in the areas around Washington, DC. "To offset the wide Democratic margins in Northern Virginia, Gillespie will need to run up the score in the more rural parts of of the commonwealth, particularly in the southwest and Southside regions." In the end, CNN notes, the race may well be decided by voters in two exurban DC counties - Loudoun and Prince William.
For more on the candidates and the issues in this election, see this article from The Washington Post.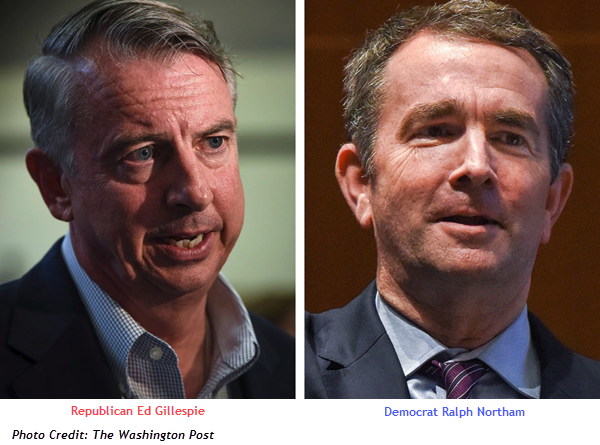 New Jersey Gubernatorial Election: Term-limited Republican Chris Christie will be replaced by Lieutenant Governor Kim Guadagno (R) or businessman and former U.S. Ambassador to Germany Phil Murphy (D). The incumbent is highly unpopular, complicating Guadagno's efforts to prevail in this traditionally blue state. Recent polls, such as this one from Monmouth University, all show lead of 14-16 points for the Democratic nominee, who is expected to win. Polls are open from 6:00 AM to 8:00 PM Eastern Time.
Utah's 3rd Congressional District Special Election: The race is to fill the open seat created by the departure of former Rep. Jason Chaffetz. It will be contested again in 2018 as part of the midterm elections. The Republican nominee is the Mayor of Provo, John Curtis. The Democratic nominee is a physician, Kathie Allen. Curtis led by 27 points in a recent poll, and is highly likely to prevail. Polls are open 7:00 AM to 8:00 PM Mountain Time.
In addition to the above, Virginia and New Jersey will have some state legislative elections. A number of large cities will also elect mayors tomorrow. These include: Atlanta, Boston, Charlotte, Cleveland, Detroit, Miami, Minneapolis, New York City and Seattle.
Looking ahead, the Alabama Senate special election is on Tuesday, December 12th. Next year will bring the midterm elections, where all 435 House seats and 33 Senate seats will be contested. 36 gubernatorial races will also be held.
This article was first published on November 5th; updated November 6th
comments powered by

Disqus
Headlines