Labrador to Run for Idaho Governor; 12th House Retirement in 2018 Cycle
By 270toWin Staff
May 10, 2017
Raul Labrador, in his 4th term representing Idaho's first congressional district, has announced he will run for governor of the state in 2018. He will be the 8th person to join the race to replace retiring incumbent Butch Otter. Idaho is one of 36 gubernatorial seats to be contested next year. In addition, Virginia and New Jersey will elect a new state chief executive in 2017. Check our 2017-18 interactive gubernatorial map for more details.
Labrador becomes the 12th House retirement this cycle. This includes eight Republicans and four Democrats. Four of these (all Republicans) are retiring (or have not announced other plans), while six are running for governor and two for the U.S. Senate. All eight of those elections will take place in 2018. Only two of the 12 House seats are seen as highly competitive in 2018, one from each party.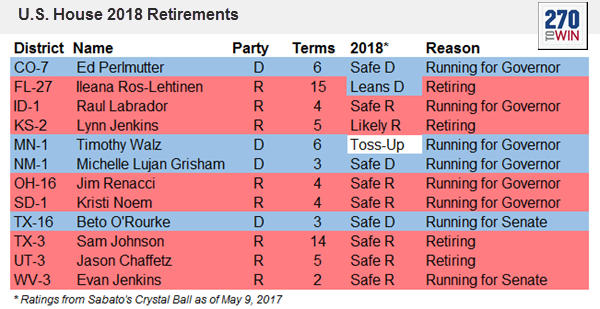 Not included in the list above is Oklahoma Republican Jim Bridenstine. He announced in late 2015 that a third term would be his last. He won that third term in 2016. However, as best as we can tell, no official announcement has been made.
All 435 House seats will be contested in the 2018 midterms. Follow along with our 2018 House interactive map.
comments powered by

Disqus
Headlines