Trump By 12 Points Over Clinton in Utah; Johnson Spikes to 16%
By 270toWin Staff
August 8, 2016
Dan Jones & Associates is out with their latest survey of Utah voters, finding little change in the standing of Hillary Clinton and Donald Trump since their last poll in June. Trump leads Clinton by 12 points, 37% to 25%. Perhaps the most noticeable finding is the spike in support for Libertarian Gary Johnson, who gained 6 points since the June poll. At 16%, this is the highest number we've seen for Johnson in any poll to date. The former New Mexico governor is now closer to Clinton in 2nd than she is to Trump.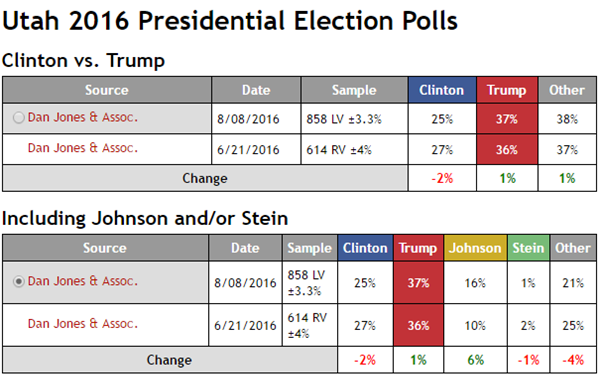 Interestingly, in 1992, Bill Clinton finished 3rd in the state, behind George H.W. Bush and Ross Perot. The independent Perot received over 27% of Utah's vote that year, slightly less than he received in Alaska and Maine.
Utah has not voted for a Democratic nominee since 1964.
It is worth noting that the field dates for this poll were July 18 through August 4. That is an extended period, during which both conventions were held.
comments powered by

Disqus
Headlines