Utah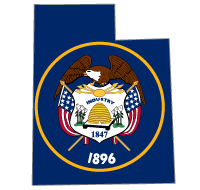 Utah became a state in January 1896, the last 19th-century addition to the U.S. map. Utahans voted for Democrat Franklin Roosevelt four times (1932 through 1944) and for his successor Harry S. Truman in 1948. Aside from that period, the state has only voted for Democrats twice, the last time being in 1964 when Lyndon Johnson won a landslide victory over Barry Goldwater. In 2012, Mitt Romney defeated Barack Obama, by 72.8% to 24.8%. This was the largest margin of victory in any of the 50 states since Ronald Reagan beat Walter Mondale here by 74.5% to 24.7% in 1984.

While Donald Trump won in 2016, he failed to receive a majority of votes, winning 45.5% to 27.5% over Hillary Clinton. Trump enjoyed less support than prior Republicans with the state's large Mormon population. Mormon conservative Evan McMullin provided these voters with an alternative. McMullin received over 21.5% of the vote, the best '3rd party' performance in any single state since Ross Perot in 1992.

Utah saw the 3rd largest percentage growth in population over the first decade of this century (about 24%). As a result, the state gained a 6th electoral vote beginning with the 2012 election.
Voting History
State voted with the overall winning candidate
Electoral College Votes
Colored bars represent electoral votes by party. Hover to see names. 2020 electoral votes shown in dark green until after the election.