Mapping it Out: NY Times Story on Electoral Strategy for Trump
By 270toWin Staff
July 31, 2016
A New York Times article out this weekend discusses the Trump campaign's electoral strategy for this fall. Citing "a daunting electoral map and a significant financial disadvantage", most of the time and money will be spent on just a few states. "It now looks exceedingly difficult for him to assemble even the barest Electoral College majority without beating Hillary Clinton in a trifecta of the biggest swing states: Florida, Ohio and Pennsylvania." The campaign also believes it must win North Carolina.
Florida, Pennsylvania and Ohio represent 67 electoral votes. All three were won by Obama in 2008 and 2012; Pennsylvania has not voted Republican since 1988. No Republican has ever won the presidency without winning Ohio.
Let's start with the 2012 electoral map, and assume Trump is able to win these three states, with North Carolina not yet decided.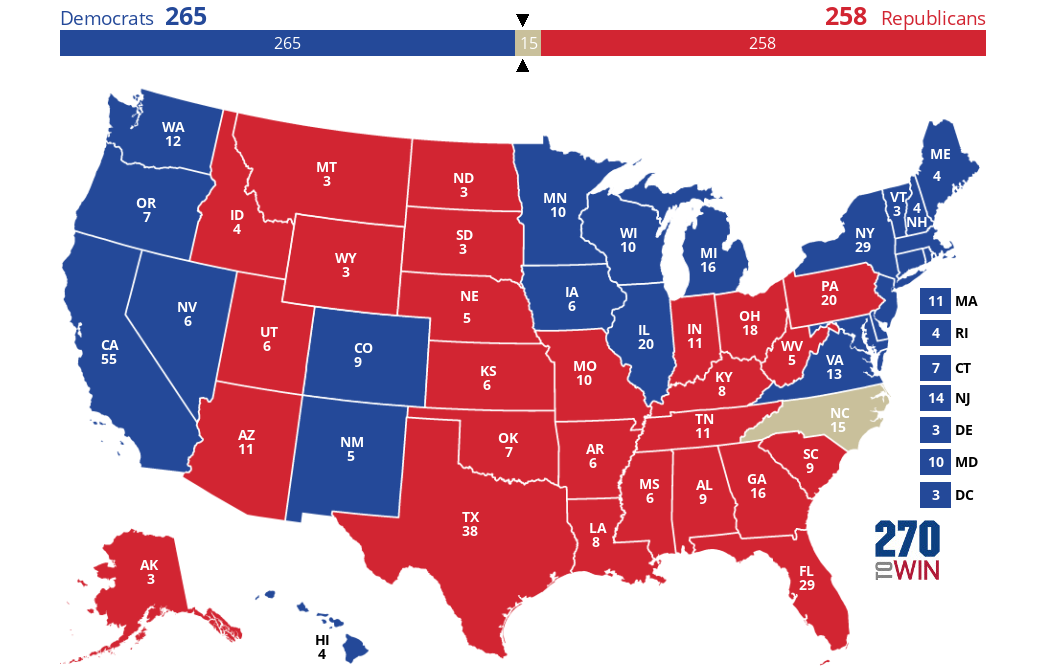 North Carolina would then loom decisive. That state, reliably Republican for several decades, has become much more of a swing state. Obama won it in 2008, while it went for Romney in 2012. In both years the margin of victory was the 2nd smallest in the country. 2016 could be just as tight. (This past week, a federal appeals court struck down the state's voter ID law which, the court said, suppressed African-American turnout at the polls. In a close race, this decision could make a difference).
Utah as Wild Card?
This is a bit far-fetched, but we're still a few months out, so fun to game out different possibilities. Let's say Trump wins North Carolina, and the above strategy is completely successful. He has 273 electoral votes and wins the presidency, assuming everything else stays the same. However, what if one state doesn't stay true to form? What if Utah voted for Libertarian Gary Johnson? We'll take a look at this using our 3-way electoral map: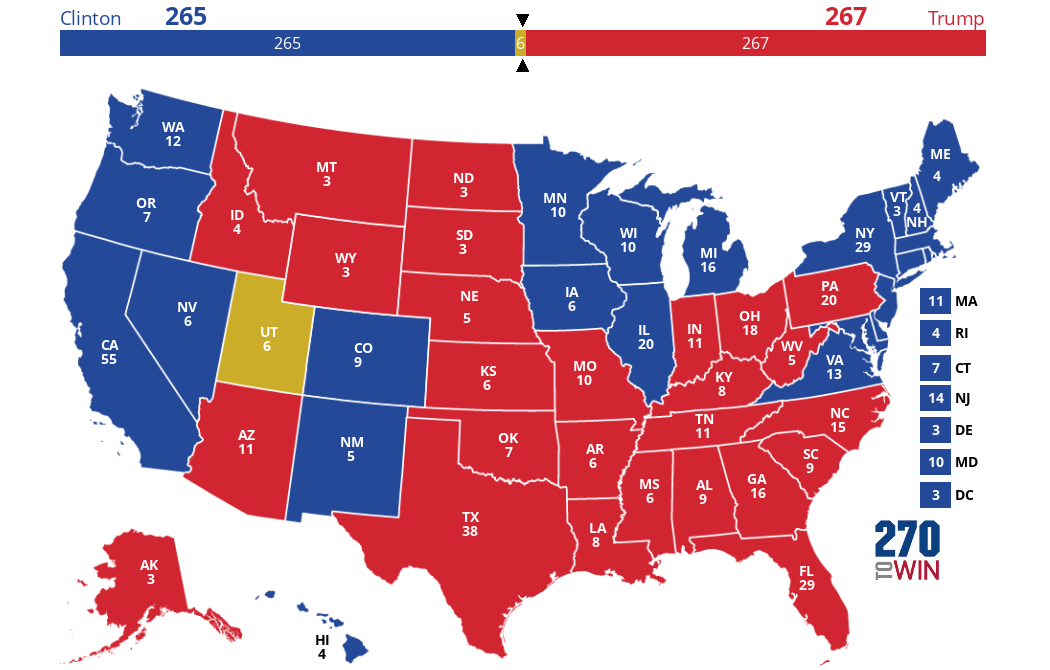 Republicans have won Utah every election, often by a wide margin, since 1968. That year was also the last time a 3rd party won a state. While still unlikely to change this year, Gary Johnson has been seeing low double-digit support in limited polling. Donald Trump is not well-liked in the Mormon community and there is some possibility that Mitt Romney will endorse him. (Alternately, although we've seen nothing to support this, there remains time for Romney himself to register as an independent. The deadline for that in Utah is August 15.)
A 3rd party win in Utah, in the above scenario, would throw the election to the House of Representatives, where each state delegation would have one vote. While Republicans control the majority of these state delegations, nothing is guaranteed at that point.
comments powered by

Disqus
Headlines