2012 Presidential Election
2012 Election Results
| | | | | | | | | |
| --- | --- | --- | --- | --- | --- | --- | --- | --- |
| | | Candidate | | Party | | Electoral Votes | | Popular Votes |
| ✓ | | Barack H. Obama (I) | | Democratic | | 332 | | 65,446,032 |
| | | W. Mitt Romney | | Republican | | 206 | | 60,589,084 |
| | | Gary Johnson | | Libertarian | | 0 | | 1,275,971 |
The United States presidential election of 2012 was the 57th quadrennial presidential election. It was held on Tuesday, November 6, 2012. The Democratic nominee, incumbent President Barack Obama, and his running mate, Vice President Joe Biden, were elected to a second term. Their major challengers were the Republican nominee, former Massachusetts Governor Mitt Romney, and his running mate, Representative Paul Ryan of Wisconsin.
Although most major media outlets insisted before the election that the race was too close to predict a winner in advance, analysts using statistical models, bookmakers, and betting markets had Obama as a clear favorite. At around 11:15 PM EST on Election Day, most major television networks called Ohio for Obama, projecting him the winner of the election. At around 1:00 AM EST on November 7, Romney conceded the election to Obama. By November 10, the electoral outcomes of all 50 states and the District of Columbia had been definitively projected. Obama won 332 electoral votes and carried all the states and districts (among states that allocate electoral votes by district) that he had won in the 2008 election except North Carolina, Indiana, and Nebraska's 2nd congressional district.
Eight states (Arizona, Florida, Georgia, Nevada, South Carolina, Texas, Utah, and Washington) gained votes due to reapportionment based on the 2010 Census. Ten states (Illinois, Iowa, Louisiana, Massachusetts, Michigan, Missouri, New Jersey, New York, Ohio, and Pennsylvania) lost votes.
Change History!
Try out the
2012 interactive map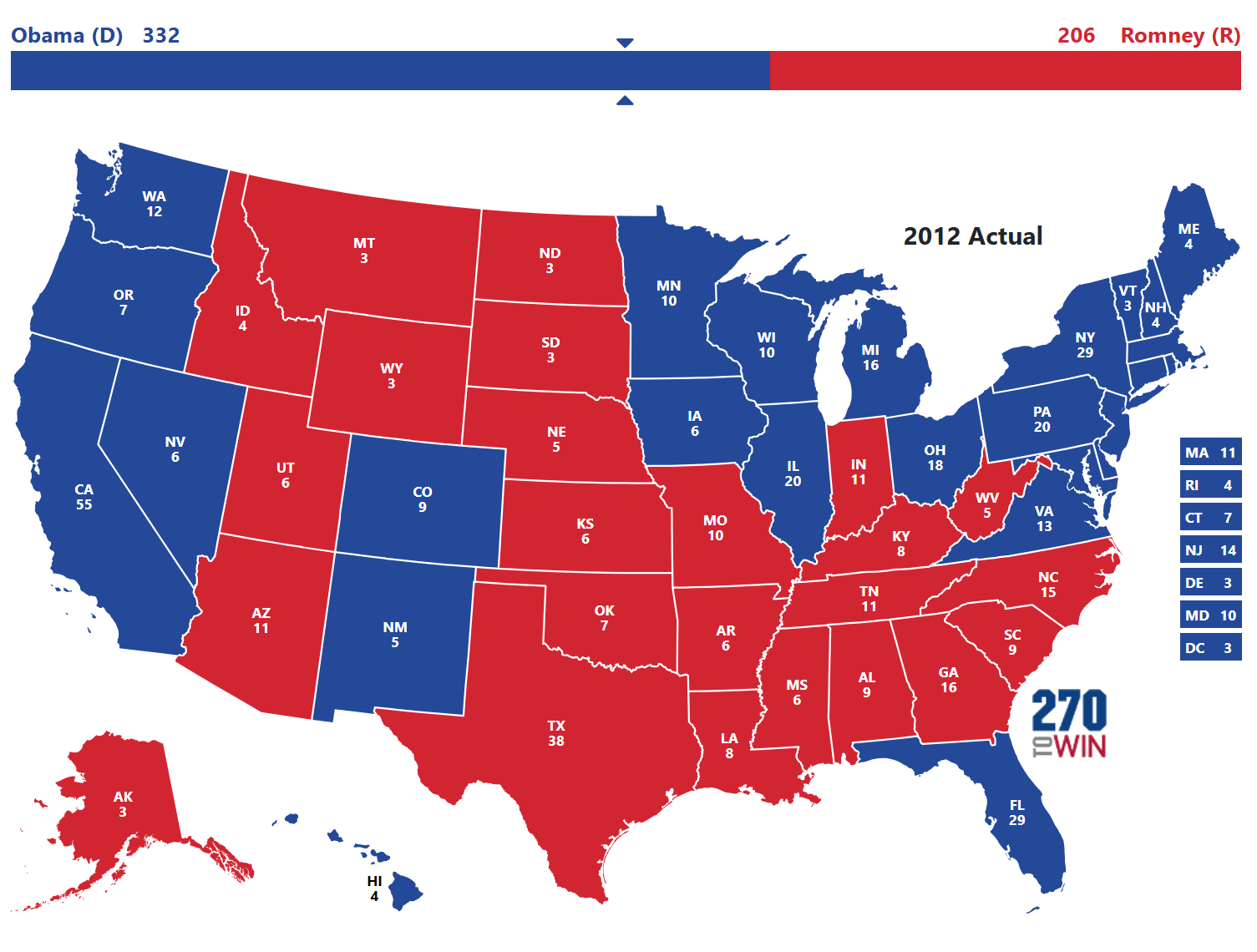 2012 Election Facts
Issues of the Day: Role of government, Spending & tax rates, Nuclear Iran, Arab Spring, Global warming, Campaign finance
Obama only the 2nd president (Wilson, 1916) to be elected to a second term with fewer electoral votes than earned when winning first term
Few Battlegrounds: Despite a fairly competitive race overall, only four states were decided by less than a 5% popular vote margin
Electoral Vote changes for 2012 based on 2010 Census: [+4 TX], [+2: FL], [+1: AZ, GA, NV, SC, UT, WA],
[-1: IA, IL, LA, MA, MI, MO, NJ, PA], [-2: NY, OH]
More Census: First time that CA hasn't gained an electoral vote in reapportionment; 7th consecutive time NY has lost 2 or more; TX gain of 4 most since CA gained 7 after 1990 count
Margin of Victory Map
This map is shaded by how large the popular vote difference was between the two nominees. It is a way to view the relative competitiveness of each state. These maps are also available as a timeline for each election from 1972-2016.