July 7, 2016
Donald Trump's political director, Jim Murphy, told House members that the campaign would focus on 17 states this fall, the Wall Street Journal reports. Included are 12 states Barack Obama won in both 2008 and 2012 (145 electoral votes) and five states Mitt Romney won in 2012. Not in the list are extreme longshots like California and New York, states Trump has previously indicated would be competitive for him.
The five 2012 red states have been Republican safe havens in recent history, although Obama won North Carolina and Indiana in 2008. Perhaps with an eye on polling and/or demographics, the Trump campaign must feel the need to play some defense to hold these states.
Looking at the 2012 map, with the Trump targets as undecided, gives us this map: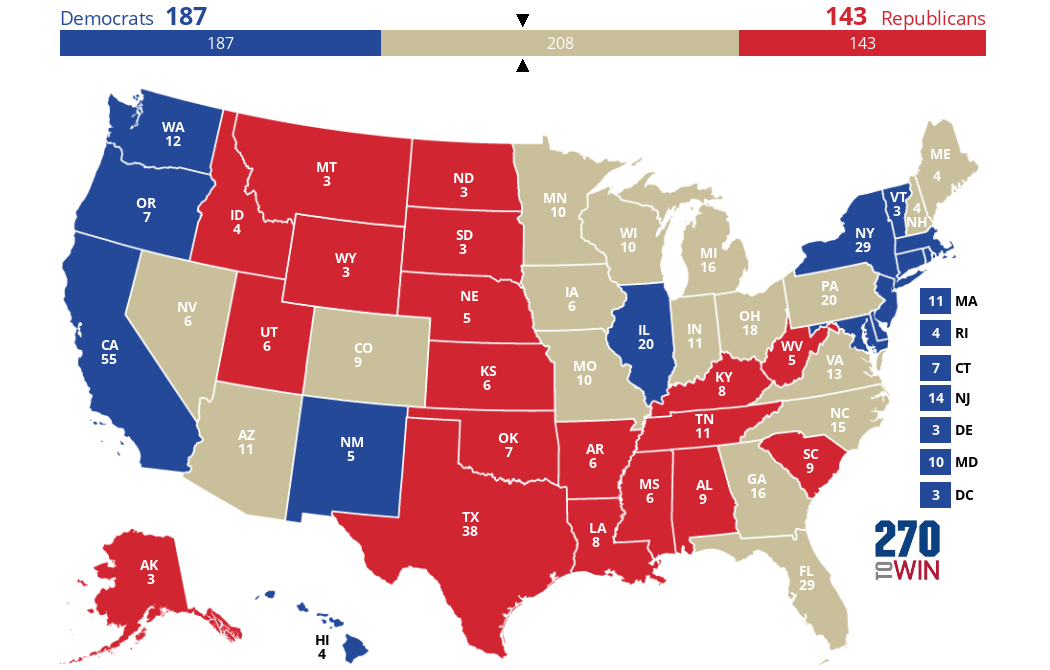 Many of the blue states 'in play' with this strategy are the traditional battlegrounds, although Minnesota hasn't voted Republican since Richard Nixon won there in 1972. Other than DC, that is the longest single party streak in the country. Maine isn't seen as a battleground either, but recent polling has indicated at least one electoral vote could be competitive there. New Mexico isn't listed, despite having voted Republican as recently as 2004. The campaign must think that state's demographics are too much to overcome. Finally, Utah isn't on the list, despite several polls indicating Mormon dislike for Trump could put the state in play this November.
comments powered by

Disqus
Headlines