Six Democratic Contests Tuesday: Polling & Delegate Preview
By 270toWin Staff
June 6, 2016
After strong showings in Puerto Rico and U.S. Virgin Islands, Hillary Clinton is poised to become the presumptive Democratic nominee Tuesday night, easily surpassing the 2,383 delegates required to win. As of Monday morning, Clinton is just 26 delegates short of the magic number.

Nearly 700 pledged delegates are available in the six contests Tuesday, which includes five primaries and the North Dakota caucus. The first polls close in New Jersey at 8PM ET. Clinton leads the polls by 21 points over Bernie Sanders there, and she will likely cross the delegate threshold before voting ends in any of the other states.
The big prize is California, with 475 pledged delegates. The polls close there at 11PM ET. Sanders has drawn nearly even in recent polling. A Sanders win there would make for an odd evening for Democrats, bookended on one end by Clinton being declared the presumptive nominee, only to have her lose the largest Democratic state a few hours later.
Limited polling in New Mexico points to a Clinton victory. No polling is available in the other states. However, Sanders has won every other state in that part of the country so he should do well.
The table below allocates delegates assuming the polling averages are exactly right. It also assumes the statewide vote is the same in each congressional district. That won't be the case, but with proportional allocation and only two candidates, it is a pretty good proxy.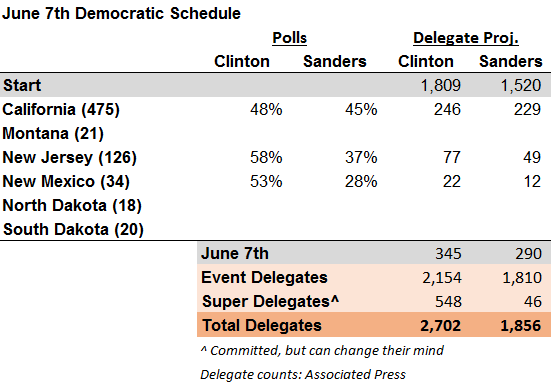 Even assuming Sanders takes most of the Dakotas and Montana delegates, Clinton will likely end up in the neighborhood of 2,700 delegates, 300+ clear of the needed number and a lead of well over 800 on Sanders. Clinton will still be about 200 short based on pledged delegates, but with a 300-325 delegate margin expected in that category, there's little reason to believe superdelegates will switch en masse barring a major 'black swan' event between now and the Democratic convention in late July.
The one remaining Democratic primary is June 14 in District of Columbia.
comments powered by

Disqus
Headlines