Clinton Leads Sanders by 18 Points in California, New Poll Finds
By 270toWin Staff
May 24, 2016
A new California poll by SurveyUSA gives Hillary Clinton a 57% to 39% lead over Bernie Sanders. This finding is little changed from another survey by the same firm earlier in May.
California holds its primary June 7th, the last big date on the Democratic nominating calendar. Owing largely to the Golden State's 475 pledged delegates, the date trails only Super Tuesday in the number of delegates available.
The table below summarizes the remaining Democratic events, along with polling - only available in California and New Jersey thus far - and an estimated delegate allocation for those two states based on those polls.*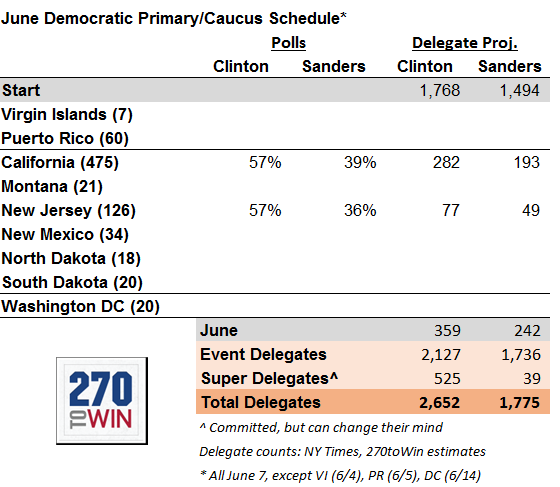 Hillary Clinton will be reported to have clinched the Democratic nomination on June 7th, easily surpassing the 2,383 delegates needed to win. However, she will likely be about 150 short of that total based purely on pledged (event) delegates alone. For that outcome to change, the Sanders campaign would need to flip several hundred superdelegates by the time they cast their vote at the party's Philadelphia convention this July. Given that Clinton will win the pledged delegate race by about 400, this seems unlikely.
* Democratic allocation is proportional, some based on the statewide vote, some on the result within each congressional district. The delegate estimate assumes that the statewide polling average applies in each district. That won't be the case but with only two candidates expected to get the vast majority of the vote, many of the differences should offset each other.
comments powered by

Disqus
Headlines