Sanders Sweeps Three Saturday Caucuses, Narrowing Clinton's Delegate Lead
By 270toWin Staff
March 27, 2016
Bernie Sanders cruised to easy wins in all three Democratic caucus states Saturday, surpassing 1,000 total delegates in the process. The Vermont Senator received about 70% of the vote in Washington state and Hawaii, while scoring north of 80% in vote equivalents in Alaska. Sanders won 30 of the 41 total Alaska/Hawaii delegates and, at this point, has won 25 of 34 allocated delegates in Washington.
Here's where things stand as of this morning. Sanders has narrowed Clinton's lead by 35 delegates: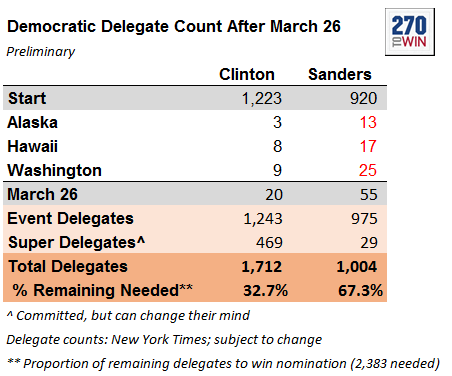 Another 67 delegates remain to be allocated in Washington. An estimate by The Greenpapers (as of Sunday AM) gives Sanders a 74-27 total for the state, meaning he would win about 49 of the remaining 67 delegates there.
Despite the good night for Sanders, Clinton now needs less than 1/3 of the remaining delegates to reach 2,383 and secure the Democratic nomination. For Sanders to have a real shot, he'll need to build on Saturday's performance in Wisconsin on April 5 and then, more importantly, in the Northeast later in April. Wisconsin is certainly doable; but Sanders trails badly in delegate-rich New York (April 19) and in many of the April 26 states. The Sanders campaign is planning a strong push in New York.
comments powered by

Disqus
Headlines