Cruz, Trump Split As Sanders Takes 2 of 3 From Clinton - Updated Delegate Counts
By 270toWin Staff
March 23, 2016
Tuesday saw Ted Cruz easily win in Utah while Donald Trump did the same in winner take all Arizona. The main question of the night was whether Cruz could exceed 50% in Utah, the threshold for making it also winner take all. Cruz ended up near 70%. As a result, the night saw Trump win 59 delegates, Cruz 41. Both figures include a committed delegate from American Samoa. John Kasich was shut out for the night.
Trump increased his lead slightly and is now about 500 delegates away from the 1,237 needed. He needs about 53% of the remaining delegates to avoid a contested convention.
It was a good night for Bernie Sanders who cruised to victory in both Utah and Idaho caucuses. Hillary Clinton won Arizona. Sanders gained slightly in the delegate race, earning 57 delegates to Clinton's 51. Clinton needs about 600 delegates to reach 2,383 and win the nomination. That's about 1/3 of the remaining delegates.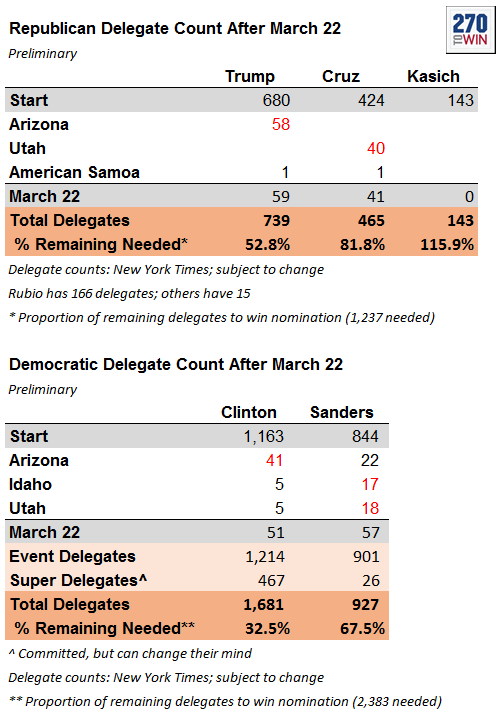 This weekend sees three additional Democratic caucuses. The largest, by far, is the Washington state one with 118 delegates. Alaska and Hawaii will also hold their events. Based on other Western caucuses, Sanders should do well in Washington and Alaska; a little less clear how Hawaii will shake out. On the Republican side, the election calendar is quiet until the Wisconsin primary on April 5. North Dakota Republicans have a convention the first weekend in April to select delegates for the national convention in July. However, any candidate preferences noted by those delegates are not binding.
comments powered by

Disqus
Headlines