Delegate Maps Now Available; Sort by Date, Type, Allocation Method
By 270toWin Staff
February 1, 2016
We've added delegate state maps to our Republican and Democratic nomination pages. These maps let you see how many delegates each state will send to the respective party's national convention. You can choose to view the map based on time, contest type or allocation method, and from there look at any slice of those three elements.
Each state can be clicked or tapped to get a little more detail on the state's contest as well as a polling average (if enough recent polls are available) and individual poll detail.
This Republican map, for example, is based on allocation methods, and shows how the 689 delegates up on Super Tuesday will be allocated.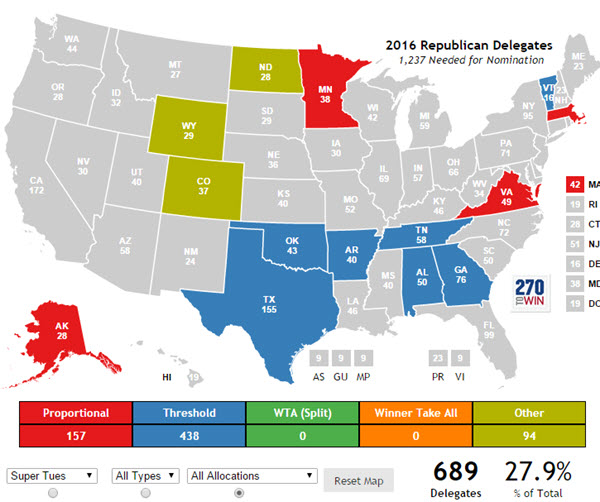 Within the time dimension, there's also an option for 'Up Next', which will highlight the next date one or more contests are being held. It's not particularly exciting with only one, but here's the Democratic map using that filter: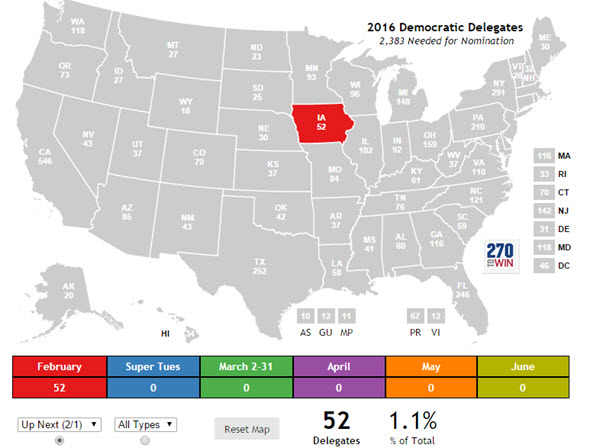 comments powered by

Disqus
Headlines