New Polls Show Trump Leads Three Early States; Democratic Results Mixed
By 270toWin Staff
January 28, 2016
Donald Trump has leads ranging from 7 to 19 points over Ted Cruz in three early voting states, a new set of polls from NBC News / Wall Street Journal / Marist shows. On the Democratic side, Bernie Sanders and Hillary Clinton have huge leads in New Hampshire and South Carolina, respectively, while Iowa is essentially tied four days in advance of the February 1 caucuses.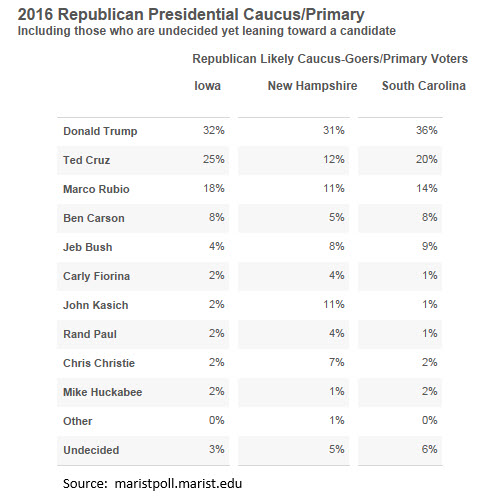 Trump leads by 7 in Iowa, the poll found. This is consistent with most recent polls, as is his much larger 19 point lead in New Hampshire. There's been less polling in South Carolina, although here too there's not much new with Trump's 16 point lead.
Marco Rubio has made nice gains in Iowa; this latest poll has him at 18%, his highest number there yet. The top 3 candidates in Iowa now have support from 75% of likely caucus goers. In New Hampshire, it continues to lok like a tight battle for 2nd, with Cruz, Rubio and John Kasich basically tied, with Bush and Christie within the margin of error.
For the Democrats, the real battle seems to be for Iowa. Sanders has pulled well ahead of Clinton in New Hampshire, while Clinton continues to dominate the polling in South Carolina.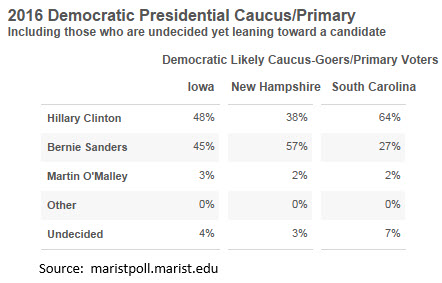 It will be interesting to see how the polls from New Hampshire and South Carolina change after Iowa has had its say.
comments powered by

Disqus
Headlines