December 22, 2015
According to Politico, Fox Business will announce qualifying criteria for the next Republican debate on Tuesday. The main stage could see as few as six participants. Those who place in the top 6 nationally based on the 5 most recent recognized polls as of January 11 will qualify. If any other candidate is in the top 5 in New Hampshire or Iowa based on recent state polls, they will also qualify.
Once again, there will be a preliminary debate. In this case, those with 1% in one or more of five recognized polls will qualify.
As of now, Donald Trump, Ted Cruz, Marco Rubio, Ben Carson, Jeb Bush and Chris Christie would qualify based on the 270toWin average of recent polls. Note that these may not be the same polls used by Fox.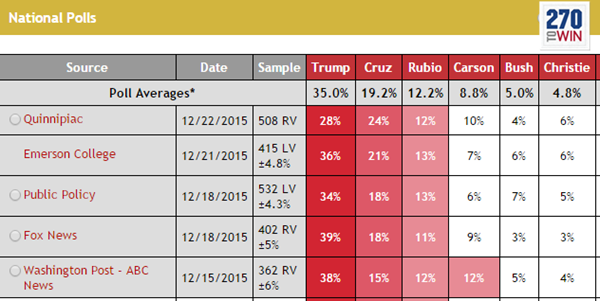 Nobody else would qualify based on Iowa or New Hampshire. This would leave John Kasich, Carly Fiorina and Rand Paul off the main stage.
The debates will be held January 14 in North Charleston, SC.
comments powered by

Disqus
Headlines