Trump Lead Continues to Grow; Carson Fading to Benefit of Cruz
By 270toWin Staff
December 4, 2015
Donald Trump has opened up a 20 point lead on his closest challengers for the Republican nomination in the latest CNN | ORC poll of registered Republicans. This is the first national poll fully sampled after Thanksgiving. Trump's 36% represents a new high in polling support, as does the size of his lead. In the last CNN | ORC poll in late October, Trump had 27%, but just a 5 point lead.
Ted Cruz was 2nd, with 16% support, just ahead of Ben Carson's 14%. Hidden in that result is that Cruz's support is on the rise, while Carson is fading. In the prior CNN | ORC poll, Carson had 22%, Cruz just 4%. These two appeal to a similar portion of the electorate.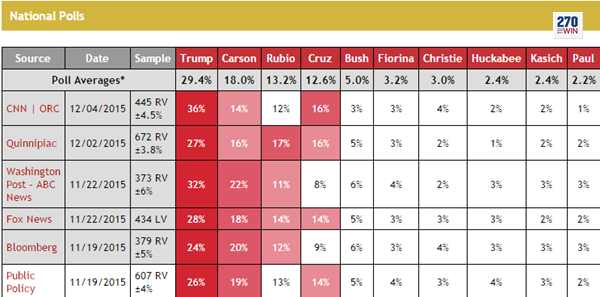 Less than two months from the Iowa Republican caucus, Trump remains the undisputed national frontrunner in the still-crowded Republican field.
New: 3rd Party / Independent Electoral Map
It's pure speculation at this point, but if Trump were to continue dominating the Republican field, it's possible we could see one or more high-profile candidates jump into the race as independents or with a 3rd party. Perhaps a defeated Republican or former New York Mayor Mike Bloomberg. On the other hand, if Trump is pushed aside 'unfairly', he might choose to take his considerable base and run as an independent himself. While unlikely, this could lead to electoral votes being won outside the two major parties.
Our new electoral map lets you game out such scenarios. Try it out!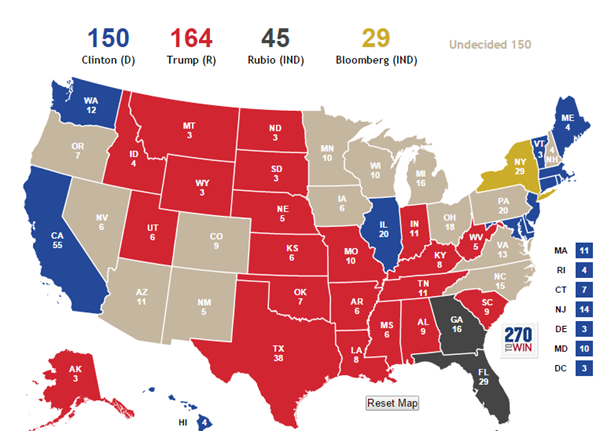 comments powered by

Disqus
Headlines