Quinnipiac Poll Sees Biden Tops Clinton vs. Republicans; Trump, Clinton Lead Party Races
By 270toWin Staff
August 27, 2015
The latest national poll from Quinnipiac shows Donald Trump and Hillary Clinton continuing to lead the field in their prospective parties. Looking ahead to November, it shows Joe Biden outperforming Clinton and Bernie Sanders in hypothetical match-ups vs. Jeb Bush, Marco Rubio or Trump.
Republican Nomination: Trump continues to lap the Republican field, earning 28% in this newest survey. Ben Carson was second at 12%, followed by Bush, Rubio and Ted Cruz at 7%. Walker was next at 6%, losing about half of the support he received in the last Quinnipiac poll at the end of July.
Democratic Nomination: Clinton led with 45%, with Sanders at 22% and Biden at 18%. Clinton has lost 10% off the 55% she received in the last Quinnipiac poll. Half of that support has moved to Sanders, half to Biden.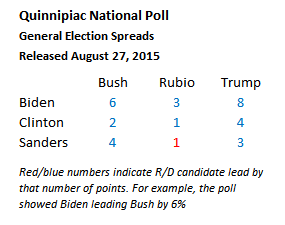 General Election: The Democratic nominee was ahead in most of these match-ups, although usually pretty close. What was most interesting is that VP Biden, still not in the race, is outperforming his prospective rivals vs. Republicans. Of course, the very fact that he's not in the race might have something to do with this.
Quinnipiac also asked "What is the first word that comes to mind..." in regards to Clinton, Bush and Trump. We've compiled the top 10 for each candidate below; use the links in the preceding sentence to go to the full list. Some amusing responses.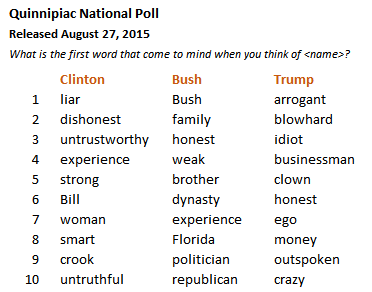 comments powered by

Disqus
Headlines