Results of New Polls in FL, OH and PA Including Updated Electoral Maps
By 270toWin Staff
August 20, 2015
A new Quinnipiac poll of Florida, Ohio and Pennsylvania shows continued strength for Donald Trump on the Republican side; Hillary Clinton the Democratic side. However, that enthusiam wanes in the general election, with intraparty challengers doing as well as or better in general election match-ups.
In the general election, Quinnipiac tested Clinton, Biden and Sanders vs. Bush, Rubio and Trump. Among the more interesting findings:
Bush and Rubio have moved well ahead of Clinton in Florida

Biden does as well as, or better than Clinton vs. Republicans

Bush and Rubio are outperforming Trump vs. Democrats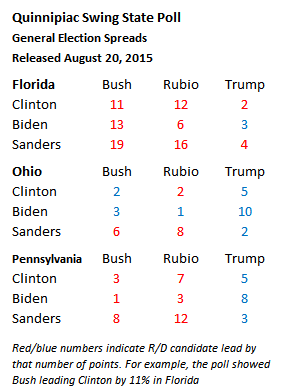 These new numbers have caused some changes on our polling-based Clinton vs. Republican 2016 electoral maps. You can also get to our new Sanders vs. Republicans maps from that preceding URL.
In the Republican primaries, Trump is ahead in Florida, notably taking the lead over home-state rivals Jeb Bush and Marco Rubio in the Sunshine State. Trump also leads, by double digits, in Pennsylvania. In Ohio, that state's governor John Kasich leads, with Trump in 2nd.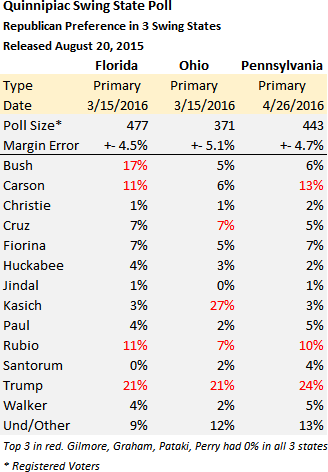 Hillary Clinton continues to hold a wide margin on the Democratic primaries in all 3 states, where the results were basically the same. That said, she is now polling under 50% in all three states, a loss of 8-15 points since the last time Quinnipiac surveyed these states in June.
To see all the primary/caucus polls to this point, visit our Republican Nomination or Democratic Nomination pages. The individual state links are below the national polls.
comments powered by

Disqus
Headlines