September 22, 2016
The map below shows states with polls released today. Coloring reflects the survey results. Within five points is shown as toss-up, while a spread of greater than 10 points yields the darkest blue/red. The lighter blue/red is for spreads of 6-10 points.
Against other recent polls, today's polls were better for Clinton in Wisconsin and Virginia, while Trump can be pleased with survey results in Iowa and Georgia.
The full list of recent presidential polls can be found here, with the full set of polling averages also available. Clinton leads by 237-120 in the electoral map based on polls.
Here are the latest state polls from the presidential race: Georgia: Trump 44%, Clinton 38% (JMC Enterprises) Georgia: Trump 47%, Clinton 43% (Landmark)...
Washington Post: "An examination by the Washington Post of one week of Trump's speeches, tweets and interviews show a candidate who not only...
"The uniquely uncivil presidential campaign is about to produce one of the biggest civic gatherings in decades: For 90 minutes on Monday night,...
This piece is only available to Political Wire members. Do you enjoy Political Wire? Join today for exclusive analysis, new features and no advertising....
September 21, 2016
The map below summarizes the states where polls have been released since Sunday. Coloring reflects the survey results. Within five points is shown as toss-up, while a spread of greater than 10 points yields the darkest blue/red. The lighter blue/red is for spreads of 6-10 points.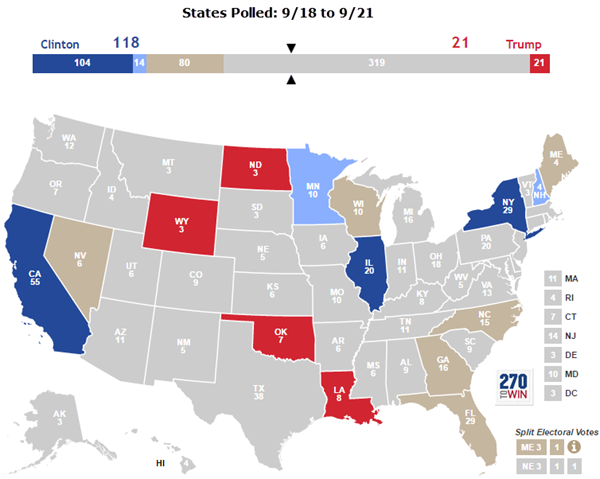 The full list of recent presidential polls can be found here, with the full set of polling averages also available.
In this recent batch of polls, Trump is doing better than might be expected in several blue states, including Wisconsin (Clinton +2), Maine (Clinton +5, but Trump +5 in 2nd District) and Minnesota (Clinton +6). Clinton is performing better in Florida (Clinton +5) and New Hampshire (Clinton +9) than in other recent polling.
September 19, 2016
It takes 270 electoral votes to win the presidency. What if nobody reaches that threshhold?
There are two main scenarios where this could occur. Neither is likely at this time, but fun to think about. The first is a 269-269 tie between Hillary Clinton and Donald Trump. The 2nd involves one (or more) third party candidates getting enough electoral votes so that neither Clinton or Trump reach 270.
There are 97 possible ties based on the states that currently look most likely to be competitive in November. Use our updated Electoral College Tie Finder to see what happens as you assign those states to Clinton or Trump.
If no candidate receives 270 electoral votes, the House of Representatives will pick the president. Each state delegation gets one vote, regardless of the number of congressional districts it has. 26 votes, representing a majority of the states, are required to win.
This in mind, it is useful to look at what party will control each state's congressional delegation in January, 2017. This is how it looks right now.

Republicans are very likely to control the majority of delegations in the new Congress. We discuss the above in more detail in this article about Electoral College Ties.
Correction: An earlier version of this article incorrectly placed Montana in the 'Democratic or tied' category. Montana has only one congressional district, so a tie is not possible. The seat there is currently rated 'Likely Republican'; thus the state is also moved to 'Likely Republican' on the map.
September 16, 2016
The Commission on Presidential Debates has invited Hillary Clinton and Donald Trump to the first presidential debate scheduled for September 26th at Hofstra University. Likewise, the running mates of the two major party nominees, Tim Kaine and Mike Pence, were invited to the vice-presidential debate at Longwood University on October 4th.
Not invited were Libertarian Gary Johnson and Jill Stein. While both met two of the three main criteria for inclusion, neither was able to come close to the 15% polling threshold set by the Commission. Per the Commission's calculation, Johnson was at 8.4%, Stein 3.2%.
September 15, 2016
A new Texas Lyceum poll gives Donald Trump a six point lead over Hillary Clinton among likely voters in a head-head match-up. That's pretty much in line with other recent Texas polls. What caught our attention is that among all registered voters, it is Clinton with a four point lead. That's a 10 point difference.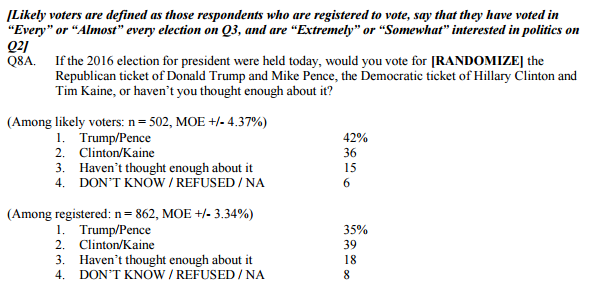 Most pollsters use a likely voter screen in the weeks leading up to the election, and that's what we use in our tables, when both are available. However, defining likely voters is a challenge for pollsters, as this 2012 article discusses.
Perhaps this kind of difference reflects more passion for one candidate. At the same time, it could highlight an opportunity if one candidate's 'get out the vote' effort can significantly outperform on Election Day.
September 14, 2016
Donald Trump has taken a small lead in both Florida and Ohio, new CNN/ORC polls of likely voters finds.
In Florida, Trump leads by 4 points head-head, 3 points when third parties are included. This brings the Florida polling average to almost dead even; Trump has a lead of less than 1%.
In Ohio, Trump also leads by 4 points head-head, with a 5 point lead when third parties are included. These results are very similar to a Bloomberg Politics poll out earlier today. All recent polling now gives Trump a 1-2 point lead in the state.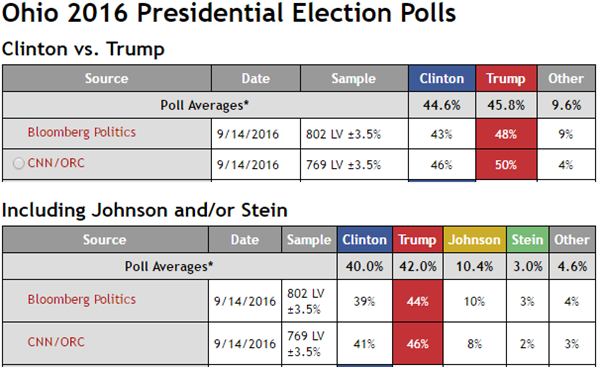 Barack Obama won both Florida and Ohio in 2008 and again in 2012. In the latter election, these were two of only four states decided by 5 points or less. No Republican has ever been elected president without winning Ohio.
CNN also surveyed the Senate races in both states, finding the incumbent Republicans with double-digit leads over their challengers. Marco Rubio leads by 11 over Patrick Murphy in Florida. In Ohio, Rob Portman has a 21 point lead on Ted Strickland.
September 14, 2016
Libertarian party nominee Gary Johnson will appear on the November ballot in all 50 states plus the District of Columbia, The Wall Street Journal reports. This marks the first such occurrence for a third party nominee since 1996, when Ross Perot (Reform Party) and Harry Browne (Libertarian) were successful. Perot received 8.4% of the vote that year, while Browne saw only 0.5% support.
Rhode Island was the final state to approve Johnson.
Johnson is currently averaging 9% in national polls, although he is well into double digits in several states. To qualify for the debates, Johnson would need to average 15%. The campaign is taking out a full-page ad in the New York Times to encourage the debate commission to allow him to participate.
No 3rd party candidate has earned electoral votes since 1968, when George Wallace won five states in the deep South. Will this year be different? You can game it out with our three-way map that includes Gary Johnson.
September 14, 2016
Donald Trump is within three points in Maine, according to a new poll released by Colby College & Boston Globe in conjunction with SurveyUSA. The poll showed Trump with a ten point lead in Maine's 2nd Congressional District.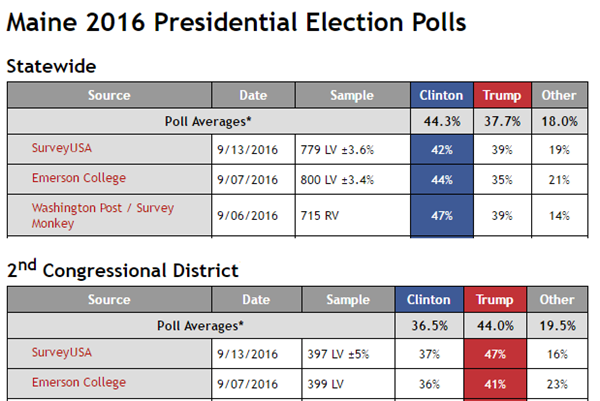 Maine is one of only two states to partially allocate its electoral votes based on the popular vote results in each congressional district. While this approach, established in advance of the 1972 election, has never resulted in an electoral vote split, that may change in 2016. Polling of the state has been limited, but the averages point toward Clinton winning the state, with Trump winning the 2nd district. In that case, Trump would earn one of the state's four electoral votes. This is now reflected in the electoral map based on polls. UPDATE: A late August poll surfaced a few hours after this article was written that had Clinton leading in ME-02. Trump still leads by several points in that district, but with the average difference within 5 points, it is reclassified as a toss-up.
Maine last voted Republican in 1988. Barack Obama won the state by over 15 points in both 2008 and 2012.
September 13, 2016
It is exactly 8 weeks until the 2016 presidential election. Here are two views of the electoral map as of today. Select either of the maps to use as a starting point to create and share your own forecast.
Polling Map
This map takes a look at the electoral map entirely based on state-level polls. We try and base it on a polling average (vs. a single poll), wherever possible. Since polls are a snapshot in time, this map more closely answers the "If the election were today...." question. It also means the map is subject to significant change between now and Election Day, particularly in states where polling has been very limited to this point.
The national polls have tightened recently, and this has begun to show up in the state-level polling, with many states now in the toss-up category. For this map that is defined as a spread of five points or less. As of now, the closest states in the polling averages are Iowa, Arizona and Florida; these are tied.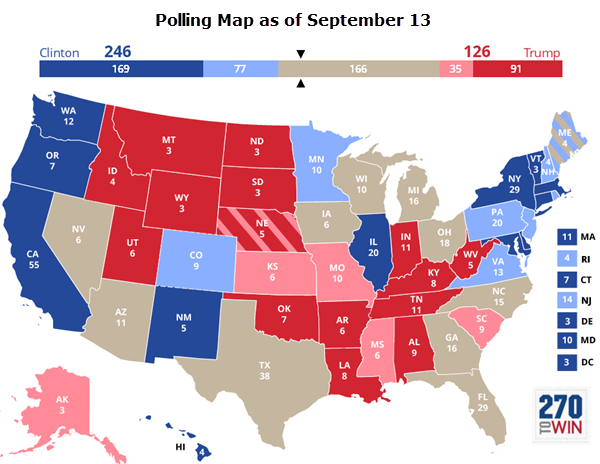 Consensus Pundit Electoral Map
This map aggregates the electoral map forecast from nine different organizations into a single map. These are all projections for November. Forecasters consider polling, history, demographics and other variables to come up with their projections. As a result, this map doesn't change as frequently. This morning's update showed no change from the last time we looked at it in late August. Clinton leads 273-175, with 90 electoral votes, from six states, seen as true toss-ups.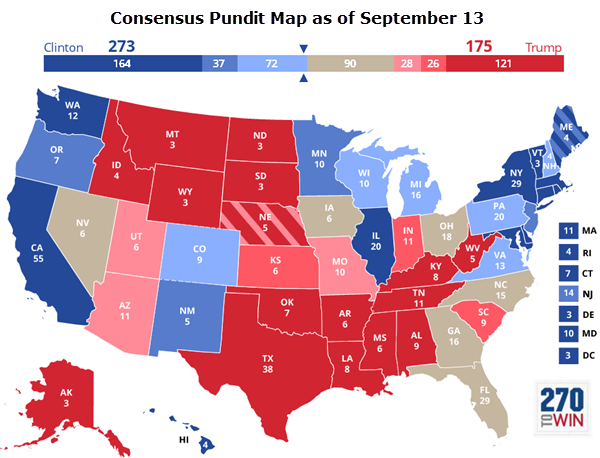 As the election nears, these two maps should converge on a pretty similar outlook.
September 12, 2016
The Associated Press takes another look at the presidential race and the electoral map. In this September 10th update, AP notes that the "presidential race may be tightening nationally, but Hillary Clinton still has the edge in the states she'll need to win in November".
The electoral map itself has changed little from AP's last look in late August. Only New Hampshire has moved, being reclassified from toss-up to lean Clinton. That minor change is notable in that it pushes Clinton across 270 electoral votes.
The latest AP map is below. Click on it for an interactive version to create and share your own 2016 presidential election forecast. We've also added the map to our pundits page, where you can view the latest projection from 10 different outlets.