Illinois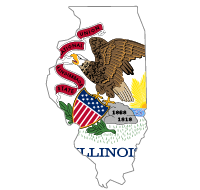 Illinois became a state in December 1818. Largely Republican from the Civil War through the 1920s, the state voted Democratic throughout the Great Depression and World War II, then returned to the Republicans for eight out of 10 elections from 1952 through 1988. Illinois has voted Democratic in the last seven elections. In 2016, Hillary Clinton easily beat Donald Trump 56% to 39%.

With 20 electoral votes, the state is the largest electoral prize in the Midwest, although nearby Ohio, with 18, gets considerably more visibility in the general election thanks to the fact that it is much more of a battleground state. Like many other northern industrial states, Illinois has lost electoral influence as its population has not grown with the rest of the country. This has cost it at least one electoral vote after each of the last four Censuses. It is currently on track to lose two more after the 2020 presidential election.
Voting History
State voted with the overall winning candidate
Electoral College Votes
Colored bars represent electoral votes by party. Hover to see names. 2020 electoral votes shown in dark green until after the election.