Georgia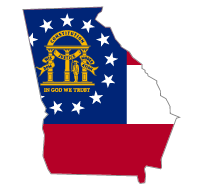 Georgia, one of the original 13 colonies, entered the Union in January 1788. The state has participated in every presidential election except 1864 (due to secession). From 1868 thru 1960, the state was as "blue" as can be – voting Democratic in every election. Like many other southern states, its residents were conservative Democrats that went "red" in 1964 in response to unhappiness over the Civil Rights Act, which was effectively exploited by the Republicans in a tactic called the "southern strategy." In 1968, Georgia voted for Independent George Wallace in an election that marked the last time a third-party candidate received any electoral votes.

Georgia has been reliably Republican since 1972, except when a southern Democrat was on the ticket – Georgians sided with native son Jimmy Carter in 1976 and 1980 and Bill Clinton in 1992. In 2004, George Bush easily defeated John Kerry by 58% to 41%. Republican margins have been more narrow since then, as the state's rapidly growing population has led to some shifts in overall demographics. In 2016, Donald Trump beat Hillary Clinton by about 5%. The growing population has led to Georgia gaining at least one electoral vote in each of the last three Census reapportionments. Only seven states now have more than its 16 electoral votes.
Voting History
State voted with the overall winning candidate
Electoral College Votes
Colored bars represent electoral votes by party. Hover to see names. 2020 electoral votes shown in dark green until after the election.
Gray indicates available electoral votes that were either not cast or cast for a candidate not on the ballot.
An empty column indicates the state did not participate in that election.