Cook Political Report Initial 2024 Electoral College Race Ratings
By 270toWin Staff
July 28, 2023, 9:36 AM ET
Cook Political Report is out with its initial electoral college race ratings for the 2024 presidential election. The forecaster projects an extremely narrow playing field, with the election likely to be decided by voters in just seven states. Read the analysis ($) from Amy Walter.
There are four toss-ups: Pennsylvania (19 electoral votes), Georgia (16), Arizona (11), and Wisconsin (10). These were the most closely-contested states in the 2020 presidential election, all narrowly won by Joe Biden after Donald Trump took them in 2016. North Carolina (16) starts as Leans Republican, while two states, Michigan (15) and Nevada (6) are Leans Democratic.
Taken together, safe and likely electoral votes are almost evenly split; Democrats hold a 226-219 edge in the ratings.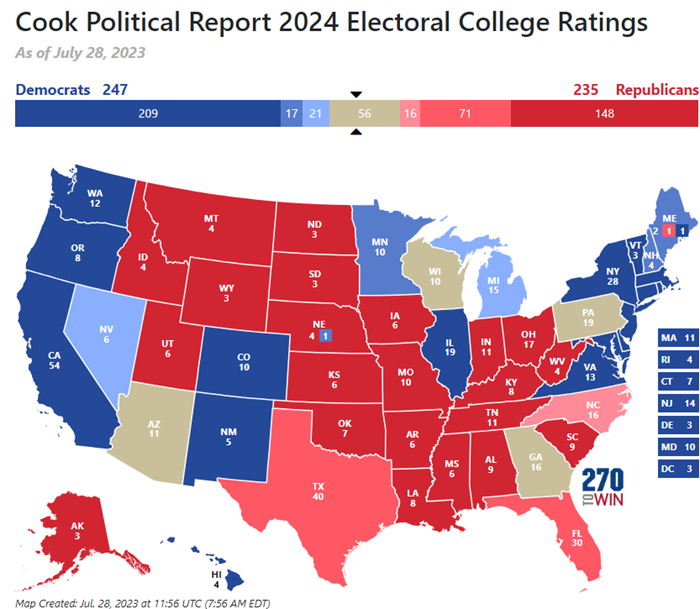 Several states that have been battlegrounds in the recent past have been taken completely out of the competitive set in this initial forecast. For example, Ohio and Iowa are seen as safely Republican, while New Mexico and Virginia are safely Democratic.
The Road to 270
This feature appears below the 2024 electoral map and will let you analyze the combinations of states that get a candidate/party to the required 270 electoral votes based on the remaining toss-up states. It updates automatically as changes are made to the electoral map on the page, with full details available via links in the Winning Combinations column.
Looking at the combinations associated with the Cook Political Report map, Democrats start with 247 electoral votes, Republicans 235, and 56 electoral votes across the four toss-up states. There are five combinations that get Democrats the 23 needed for 270, while there are three paths for Republicans to get the 35 needed.
Note that this feature is based on 'critical path' combinations. For example, GA + AZ puts Democrats over 270. While GA + AZ + WI also accomplishes this, WI is not necessary, and so is not shown as a separate combination. It doesn't mean Democrats shouldn't try and win Wisconsin, as doing so leaves Republicans with only one path to victory in this scenario.

Also worth noting: Using 2020 electoral votes, the Cook Political Report ratings would have started Democrats with 249 electoral votes, Republicans 232. A small change, but could have ramifications at the margin. For example, both parties can win the presidency in 2024 - based on these four toss-up states - by winning Pennsylvania and Georgia. In 2020, that combination would not have been sufficient for Republicans, leaving them two short at 268 electoral votes. They would have also needed to win Arizona or Wisconsin.
If you'd like to view the combinations including the three 'lean' states, go here. That greatly expands the number of paths, while also introducing three potential 269-269 tie scenarios.
comments powered by

Disqus
Headlines