AP: Republican President Field Largely Set
By 270toWinStaff
June 8, 2023, 8:57 AM ET
The Associated Press reports that "after a trio of new announcements this week, the Republican Party's 2024 presidential field is all but set." The question now is whether any of the nine notable candidates not named Donald Trump can keep him from his third consecutive GOP nomination.
The AP article goes on to say that "as of now, the former president is running in a field that features no fewer than nine high-profile challengers. They include Mike Pence, a former vice president; four current or former governors: Florida Gov. Ron DeSantis, North Dakota Gov. Doug Burgum, former New Jersey Gov. Chris Christie and former Arkansas Gov. Asa Hutchinson; Nikki Haley, the former ambassador to the United Nations and also a former South Carolina governor; U.S. Sen. Tim Scott of South Carolina; biotech entrepreneur Vivek Ramaswamy; and conservative talk show host Larry Elder, an unsuccessful candidate for California governor.
Polling
National polling has shown Trump to be the unquestioned frontrunner to this point. He is seeing support from a majority of Republicans in almost every survey. DeSantis is solidly in second place, with the other eight candidates all seeing support from the mid-single digits down to almost nonexistent. The graphic below shows the seven candidates averaging 1% or more.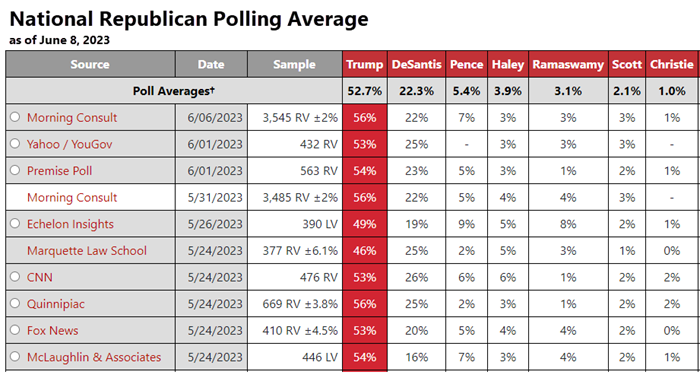 comments powered by

Disqus
Headlines