Three New Members of U.S. House to be Seated Tuesday
By 270toWin Staff
September 13, 2022, 8:50 AM ET
Vacancies in the U.S. House will drop from five to two on Tuesday, as three recent special election winners are sworn in. Democrats gained a seat in those elections bringing he partisan composition of the chamber to 221 Democrats and 212 Republicans.
The Democratic gain was in Alaska, where Mary Peltola will complete the term of the late Republican Don Young. Peltola is on the general election ballot, in what will be a special election rematch against Republicans Sarah Palin and Joe Begich.
In New York, Democrat Pat Ryan (NY-19) and Republican Joe Sempolinski will replace incumbents that resigned. Due to redistricting shifts, Ryan will run in neighboring NY-18 in November. Sempolinski did not run for a full term, and has been added to the list of retiring House members.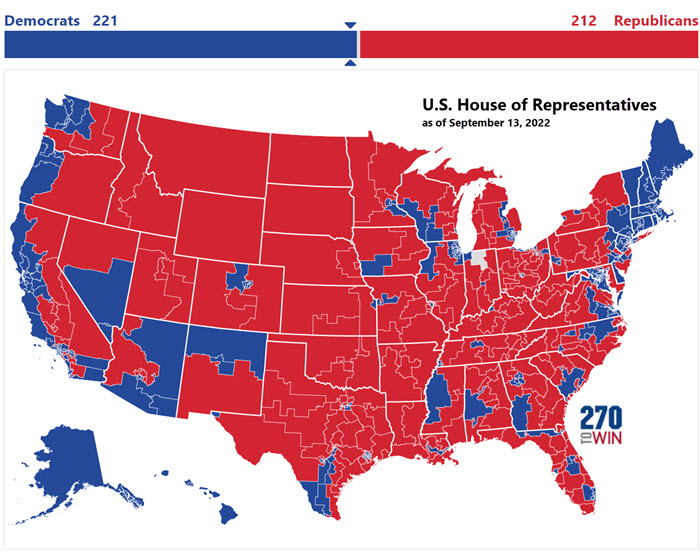 The remaining vacancies are in Indiana and Florida. Republican Jackie Walorski (IN-02) was killed in a car accident early last month. The seat will be filled via special election on November 8. Democrat Charlie Crist (FL-13) resigned at the end of August to focus on his campaign for governor. This seat will remain open until the new Congress is seated in January, 2023.
An additional vacancy is expected by the end of the month. Democrat Ted Deutch (FL-22) previously announced he would resign early to become CEO of an advocacy group.
comments powered by

Disqus
Headlines