New Hampshire Redistricting Complete; Final Shapes Added to Interactive Map
By 270toWin Staff
June 2, 2022, 11:19 AM ET
---
Locate and view your new congressional district. Result includes a side by side map comparison of how the district shape will change. Not yet available for Missouri, New Hampshire, or New York.
---
Earlier this week, the New Hampshire Supreme Court adopted the congressional redistricting plan submitted by its special master, Nathaniel Persily. The court's action came after the legislature and Gov. Chris Sununu were unable to agree on a new map.
According to New Hampshire NPR, "The map approved by the court uses a "least change" approach, moving just five towns —Jackson, Albany, Sandwich, Campton and New Hampton — from the 1st District into the 2nd District in order to achieve a balanced population."
With little geographic change, the partisan lean of the two districts is unchanged; both districts remain highly competitive. This is the outcome desired by the governor. The legislature had sought to make each district more partisan, improving the likelihood of a GOP pick-up in District 1.
The shapes have been added to the 2022 House Interactive Map. The map for 2022 is now complete, barring any changes ordered as a result of active litigation. Given calendar realities, it is becoming less likely that any of those efforts will affect the maps in place for this year's elections.
The current consensus map is below. There are no forecaster ratings yet for New Hampshire. Those districts are shown as a dark gray but are editable. Click the image to create and share your 2022 House forecast.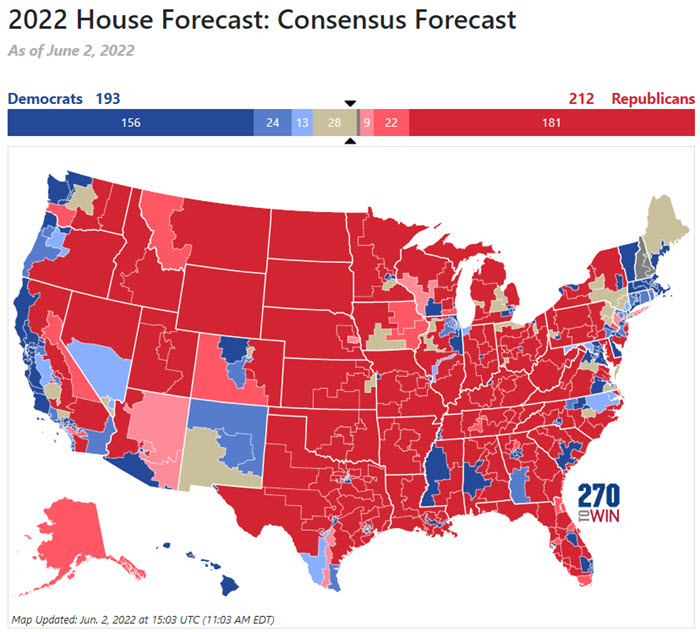 comments powered by

Disqus
Headlines