New York Court Finalizes Congressional Map; Shapes Added to Interactive Map
By 270toWin Staff
May 23, 2022, 7:31 AM ET
A New York court finalized the state's new congressional map late Friday night, setting in place the district boundaries to be used over the next decade. The shapes have been added to the 2022 House Interactive Map, leaving New Hampshire as the only state without a new plan in place.
The new map, created by a court-appointed mapmaker, replaces the one enacted into law in early February. That plan, which heavily favored Democrats, was ruled invalid by this same court in late March, setting the process in motion which led to Friday's decision. Due to the delay, the state's congressional primaries were rescheduled to August 23.
The state's current delegation of 19 Democrats and 8 Republicans1 1Includes the vacant NY-23, formerly held by Republican Tom Reed who resigned earlier this month. was on track to move to 22 Democrats and 4 Republicans after the original map was enacted. The state is losing a district following the 2020 Census. According to Cook Political's David Wasserman, the new map includes a larger number of potentially competitive seats, with a wide swing in outcomes possible depending on the environment.
So, New York ends up with a 21-5 Biden map. Not the worst outcome for Dems. But because five of those seats are single digit Biden seats, anything from 16D-10R to 21D-5R realistic depending on the year. https://t.co/4Klzw2RtOm pic.twitter.com/ueMbYj524v

— Dave Wasserman (@Redistrict) May 21, 2022
The map below 'rates' the districts as toss-up, leaning, or safe based on Biden vs. Trump 2020 margins for the new districts, as calculated by Politico.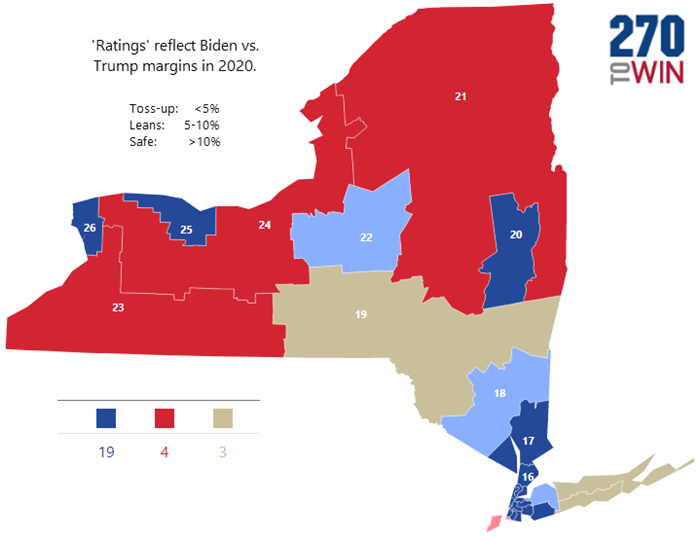 comments powered by

Disqus
Headlines