Long Island Democratic Rep. Tom Suozzi Enters New York Gubernatorial Race
By 270toWin Staff
November 29, 2021, 2:37 PM ET
Rep. Tom Suozzi (NY-3) has entered the 2022 race for governor of New York. He made his announcement Monday morning.
This will be Suozzi's 2nd run for governor. In 2006, he lost the Democratic Primary to Eliot Spitzer by 82% to 18%.
Suozzi joins a field looking to win the Democratic nomination and deny Gov. Kathy Hochul (D) the opportunity to win a full term. Hochul succeeded Andrew Cuomo, who resigned in August. Attorney General Letitia James and NYC Public Advocate Jumaane Williams previously declared their candidacy. Among those still considering a bid is outgoing NYC Mayor Bill De Blasio.
While James is seen as the greatest challenge to Hochul at this point in the race, Suozzi's entry could complicate the governor's effort as the two occupy the same moderate wing of the party. The others mentioned are more progressive.
New York's primaries are on June 28, 2022. Related: 2022 Election Calendar >>
District 3
New York's District 3 includes a small part of Queens, one of the boroughs of New York City. However, the majority of it is along the North Shore of Long Island. Suozzi won a third term in 2020 by a 56% to 44% margin. With his departure, Republicans are expected to make a strong play to flip the seat.
One wildcard is redistricting, which is not yet completed. The state is losing a district next year, although that is most likely to come from combining two districts upstate. Absent the strength of an incumbent, Democrats could put more focus on the boundaries in redistricting, although that could put one or both of the other Long Island districts - both GOP held - more out of reach.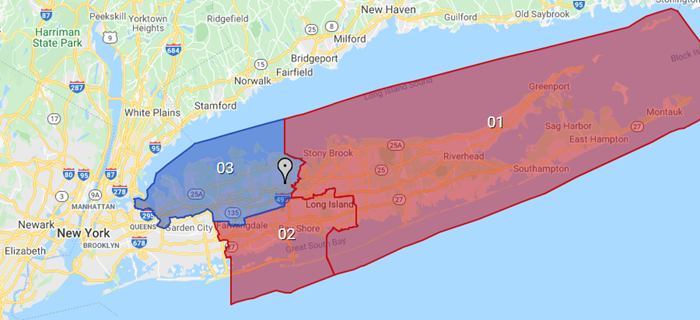 Suozzi is the 18th Democrat to announce they will be leaving the House to retire or run for another office next year. 11 Republicans are also departing. That list includes Lee Zeldin, who represents neighboring NY-1, which covers the eastern half of Long Island. Zeldin is seeking the GOP nomination for governor.
comments powered by

Disqus
Headlines