Garcia Takes Small Lead in NYC Mayoral Race
By 270toWin Staff
May 26, 2021
Former Sanitation Department Commissioner Kathryn Garcia has taken a small lead in the Democratic primary for New York City mayor, a new poll finds. In the PIX11 News/Emerson College poll of 570 likely voters, Garcia received 21% support. Brooklyn Borough President Eric Adams is statistically tied at 20%, with entrepreneur Andrew Yang close behind at 16%.
Garcia's support has grown significantly since she received the endorsement of The New York Times earlier this month. In a May 15 survey released by the same pollster, she placed 4th, with just 8% of the vote. It appears her gains largely came from previously undecided voters. Their ranks fell from 23% to 9%, while Adams and Yang saw very little change in support.
The poll also simulated Ranked Choice Voting, which will be used for the first time in a NYC mayoral race. Garcia comes out on top there, defeating Adams by 55% to 45% in the 11th round.
The primary is on June 22. In this heavily Democratic city, the winner will be a prohibitive favorite in November.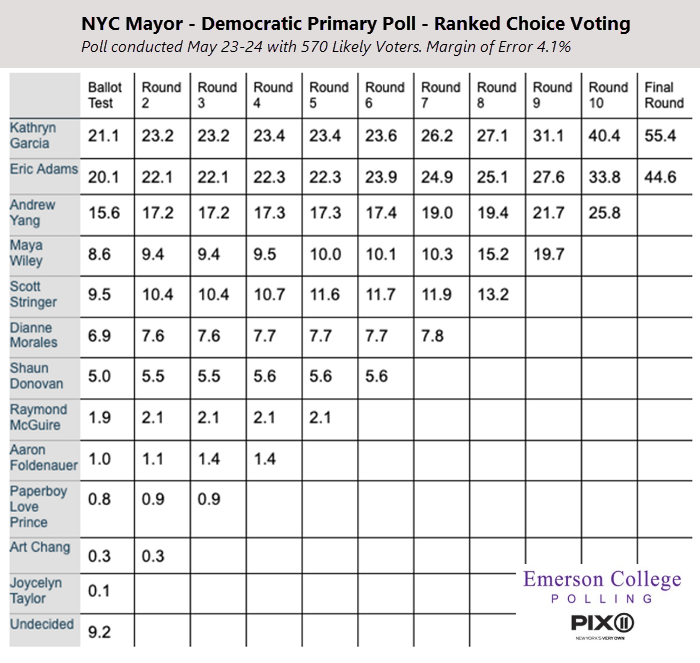 About Ranked Choice Voting
Approved for certain elections in a 2019 referendum, voters can select up to five candidates, ranking them in order of preference. Initially, each voter's first choice is counted. If one candidate has a majority, that person is the winner. If not, the candidate with the lowest support is eliminated and the second choices on the associated ballots are redistributed to the remaining candidates. If no candidate has a majority, the process repeats until one candidate crosses that threshold.
Using the poll's actual numbers, we see no candidate coming anywhere near a majority based on first choice. Given the large field and several candidates getting notable support, it is not surprising that many rounds were needed to get to a winner.
Note that in the graphic above, the 'Ballot Test' (first choice) column includes undecided voters; those are removed for 'Round 2'. That is why there is a much more significant change in the numbers for each candidate than would be the case if just Joycelyn Taylor's votes were being reallocated.
Delayed Results
It is possible that we might not know the official winner of this primary for several weeks. While we should get first choice results on election day, the tabulation of subsequent rounds may not happen until after July 9. This is because absentee ballots aren't due until June 29 with the deadline for curable defects (e.g., signature issue) on July 9. This could be a bit of a debacle if the leader on election night ends up losing weeks later, so it will be interesting to see how the NYC Board of Elections ultimately decides to handle the situation.
comments powered by

Disqus
Headlines