The Road to 270: Georgia
By Drew Savicki
October 26, 2020
The Road to 270 is a weekly column leading up to the presidential election. Each installment is dedicated to understanding one state's political landscape and how that might influence which party will win its electoral votes in 2020. We'll do these roughly in order of expected competitiveness, moving toward the most intensely contested battlegrounds as election day nears.
The Road to 270 will be published every Monday. The column is written by Drew Savicki, a 270toWin elections and politics contributor. Contact Drew via email or on Twitter @DrewSav.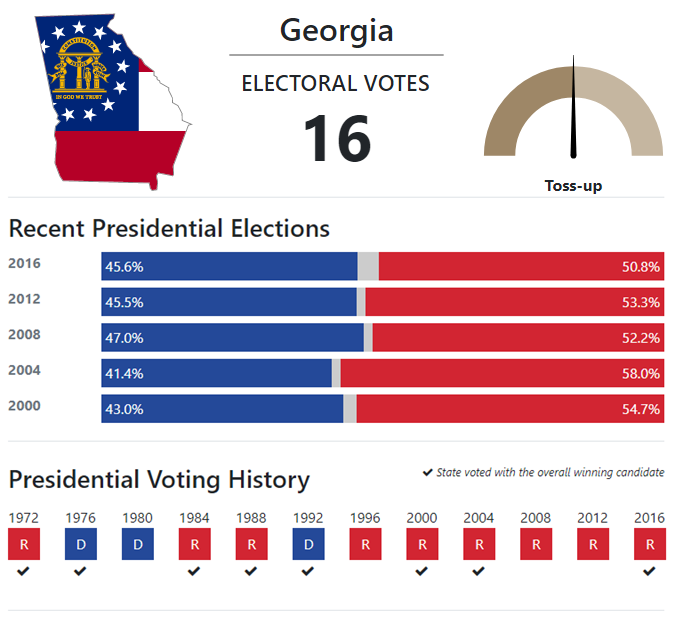 The Peach State makes a surprising addition to the battleground list this year. A state last won by Democrats in 1992, the erosion of Republican support in the booming Atlanta metro area has shifted the state's politics. With two competitive U.S. Senate races on the ballot, the Peach State is getting uncommon attention this cycle. Powered by their surging support among college educated whites and the diversifying population of the Atlanta suburbs, Democrats are making a real push for Georgia this year. Let's look beneath the surface and figure out how Georgia got to where it is now.
Growing Atlanta Metro
This year, Georgia will be won and lost in the Atlanta metro area. Increasingly Georgia politics is dominated by the booming Atlanta metro area, much to the chagrin of Republicans. These diversifying suburbs have attracted expats from around the country and the growth shows no signs of slowing down. Using the state of Georgia's official definition of the Atlanta metro area, let's look at how it's voted since 2000. George W. Bush narrowly won that year with a little over one million votes cast. By 2016, Hillary Clinton carried it by 25 points and almost 1.8 million votes were cast.

Congressional politics
Georgia has two U.S. Senate races on this year, and both are heavily contested. First let's look at the special election being held. As 2019 came to a close, longtime Sen. Johnny Isakson (R) retired due to declining health. Gov. Brian Kemp (R) appointed businesswoman Kelly Loeffler, likely due to her ability to self-fund her campaign and on the premise that she could win back suburban voters. Now on the campaign trail, Loeffler has taken a somewhat unexpected turn. Facing a strong challenge on her right flank from Rep. Doug Collins, who had openly campaigned for the Senate appointment, Loeffler has veered to the right -- in a recent ad, she claimed to be more conservative than Attila the Hun.
The Loeffler campaign's antics may have something to do with the election's format. In Georgia, special elections are held under Louisiana-style jungle primary rules: if no candidate clears 50% in November -- which is likely, as there are about twenty -- the top two finishers will advance to a January runoff. With one runoff berth looking likely to go to a Democrat, Loeffler seems to be trying to out-right Collins for the other spot. As the incumbent, Loeffler also has the full support of the Senate GOP Conference.
An ardent conservative from northeast Georgia, Rep. Doug Collins is mounting an underdog bid against Loeffler. As ranking member on the House Judiciary Committee, Collins had a front row seat during impeachment but, prior to his Senate bid, he'd been a fairly low-profile congressman. Most polls have him getting squeezed out of a runoff but Democrats are certainly happy that he has dragged Loeffler to the right in a protracted battle, and he is still winning a large chunk of Republican voters. Many House colleagues are backing Collins and he has gotten considerable support from the Georgia political establishment, including the powerful state House Speaker David Ralston.
The main Democratic candidate is Raphael Warnock. As pastor of the church Martin Luther King Jr. attended, Warnock is one of the most interesting Senate candidates this cycle. While his campaign was slow to take off, a recent push by the party and an endorsement from former President Obama has paid dividends. His fundraising has seen a significant boost and he has surged to the top spot in polls. Recent polling from The New York Times showed Warnock taking 59% of the Black vote -- expect him to consolidate more of that vote as Election Day nears.
In the regularly scheduled U.S. Senate election, freshman David Perdue (R) is facing an increasingly competitive race. From a political family -- his cousin is former Gov. Sonny Perdue, who currently serves as the Secretary of Agriculture -- Perdue was a wealthy businessman before he was elected to the Senate in 2014. Perdue finds himself in an interesting predicament for reelection. In a fast-growing state, a low-key Senator like Perdue isn't all that well-known as many Georgia voters didn't live in the state when he was first elected.
The Democratic nominee against Perdue is former congressional candidate Jon Ossoff. A documentary filmmaker and former congressional staffer, Ossoff nearly won a 2017 special election for the state's 6th District, which at the time broke fundraising and spending records. With polls in the presidential race tightening, those in the Senate race have tightened as well. With the presence of a Libertarian on the ballot, this race may also go to a January runoff. -- so this race could go to a runoff, along with the special election. Regardless, the winner of the special election will be on the ballot again in 2022, when the current term is set to expire.
Aside from the presidential race, candidates in Georgia must be elected with a majority of the vote. As noted, at least one and perhaps both of these Senate races are headed for a top-two runoff in January. One of the big Democratic concerns around this prospect is turnout. Historically, Georgia Republicans have turned out more consistently in runoffs, giving them an advantage. However, the dynamic may be different this year depending on the circumstances. If Joe Biden is elected president and Democrats have secured a Senate majority, it is easy to see Democratic turnout falling. Conversely, should Donald Trump be reelected or Democrats fall short in their quest for control, turnout will be higher. Of course, the highest turnout - and spending - for both parties is likely to be around the very real possibility that the runoff(s) will actually determine who controls the Senate. The scheduled date for the runoff is January 5, 2021, two days after the new Senate is seated. Should either Democrat win that day, they will start at the bottom of the seniority list when seated.
While Jon Ossoff was unsuccessful in his bid for Georgia's 6th District, Democrats ended up flipping it in 2018. Democrat Lucy McBath defeated Rep. Karen Handel in this Northern Atlanta suburban district. McBath, whose son Jordan was a victim of gun violence, was backed heavily by Mike Bloomberg. As the most educated congressional district in Georgia, GA-6 saw a considerable leftward swing from 2012-2016. Mitt Romney carried GA-6 by 23% in 2012 but Trump carried it by just 1.5%. Both the Crystal Ball and Cook Political Report rate GA-6 as 'Likely Democratic.' Karen Handel is seeking a rematch against McBath but this district is has trended too far away from Republicans. The area that was once represented by Newt Gingrich in the House is now firmly Democratic turf. Even if Rep. Tom Price hadn't joined the Trump cabinet, he likely would have faced a real race in 2018 and would be a top Democratic target this year.
The other competitive congressional district in Georgia is the neighboring 7th District. This includes parts of diversifying Gwinnett County and also takes in much of Forsyth County, which is redder. After winning reelection by only a few hundred votes in 2018, Rep. Rob Woodall (R) is retiring and Democrats are favored to flip this seat. 2018 nominee Carolyn Bourdeaux is back and has the energy and money behind her to defeat Republican Rich McCormick. An E.R. doctor, McCormick has a good profile for this seat but his association with Trump will hurt in a district that Biden should carry comfortably.
There was perhaps no politician more beloved in Georgia than the late Rep. John Lewis. A key figure in the Civil Rights movement, Lewis was the soul of the House and widely respected across the aisle. A true legend, Lewis faced violence as a young man fighting for civil rights and grew into one of the most respected figures in American politics. The congressman from urban Atlanta, Lewis represented Georgia's 5th District from 1987 until his death earlier this year. A stalwart progressive, Lewis nonetheless shared a close friendship with now-retired Sen. Johnny Isakson.
Lewis' death triggered a special election in this solidly Democratic seat and the winner will serve in the lame duck session of Congress. State Senator and Chair of the Georgia Democratic Party Nikema Williams was chosen by the party to replace Lewis on the November general election ballot. She opted not to run in the special election and thus will be sworn in come January. Although the Republican candidate has raised quite a lot of money, this district gave Hillary Clinton 85% and thus is all but certain to remain in Democratic hands.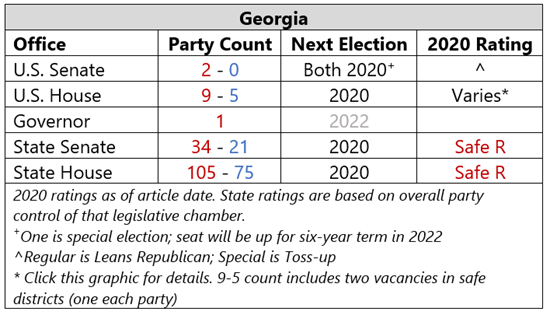 State level politics
Republicans took control of the legislature in 2005 and the party has dominated state politics for the past 15 years. Democrats made inroads in 2018 but fell short of capturing any statewide offices. Democrats rely on a diverse coalition to win in Georgia and getting their core voters to the polls in midterm years remains an obstacle. In her unsuccessful bid for Governor in 2018, then state Rep. Stacey Abrams (D) improved upon Hillary Clinton's showing in the suburbs but fell behind in many of the state's rural counties. Turning out rural Black voters is essential to a Democratic victory in Georgia and that has proven difficult for Democrats in the post-Obama era.
In the legislature, Democrats gained in 2018, winning historically Republican seats in the suburbs of Atlanta. Democrats are largely playing offense again this cycle in the Georgia House but there is one district that needs to be monitored. House Minority Leader Bob Trammell is a rare white Democrat representing a rural seat in the Georgia House. As the only Democrat from a district that voted for now-Gov. Brian Kemp in 2018, Trammell is at the top of the GOP target list.
Democrats seem likely to make modest gains in both chambers of the Georgia legislature but outright winning either chamber will be a difficult task. Flipping at least one chamber would give Democrats a leg up in redistricting.
Presidential politics and 2020 outlook
For much of its history, Georgia was part of the solid south. It voted exclusively Democratic after the Civil War through 1960. The state shifted to GOP nominee Barry Goldwater in 1964, despite his landslide loss nationwide. In 1968, it sided with George Wallace, running as a third party candidate. Since then, it has voted with the GOP except for when Democrats nominated a southerner. This included native son Jimmy Carter in 1976 and 1980. Without Carter on the ballot, Georgia swung 35 points towards Ronald Reagan in 1984 and would vote Democratic just once after that, for Bill Clinton in 1992. Still, gone are the days when Republican nominees would carry Georgia by double digits -- Georgia has been within single digits in the past three elections.
Though the trends are encouraging, Democrats still find it difficult to get over the top. Much of the focus has been on the populous Atlanta metro area, and there's certainly good reason for that, but there are some other important areas to talk about. Key to Democratic success in Georgia is turning out rural Black voters who predominately reside in southwestern Georgia. Much of southwestern Georgia is in the state's 2nd Congressional District. Represented by Democrat Sanford Bishop, this largely poor and rural district is home to a big chunk of the state's African-American population and the home of former President Carter. A conservative Democrat, Bishop is a rare African-American Democrat who has substantial crossover appeal with white southern conservatives.
Part of the problem for Democrats is turning out rural Black voters but another part of the problem is significant population decline in that part of the state. A number of these small rural majority Black counties are losing population so Democrats have to look elsewhere for votes.
One overlooked area in the state is Savannah and its surrounding suburbs. The Savannah metro area doesn't get the attention Atlanta does but it can potentially be another source of votes for Democrats. Chatham County is growing and has seen a similar leftward shift in recent years. Its suburbs have seen the same changes others have. Future Democratic campaigns would be wise to give Savannah and other cities outside Atlanta another look. Further north along the South Carolina border, Democrats have also seen some favorable shifts in the Augusta area.
Going back a moment to the Atlanta area, a key county to watch is the now solidly Democratic Gwinnett. Once the heart of the Georgia Republican Party, this suburban county has strongly trended leftward in the Trump era. Now Georgia's second largest county, Trump must hold down Biden's margin here if he hopes to win the Peach State again. Should Biden win Gwinnett with over 60% of the vote, it seems likely he'll be winning statewide.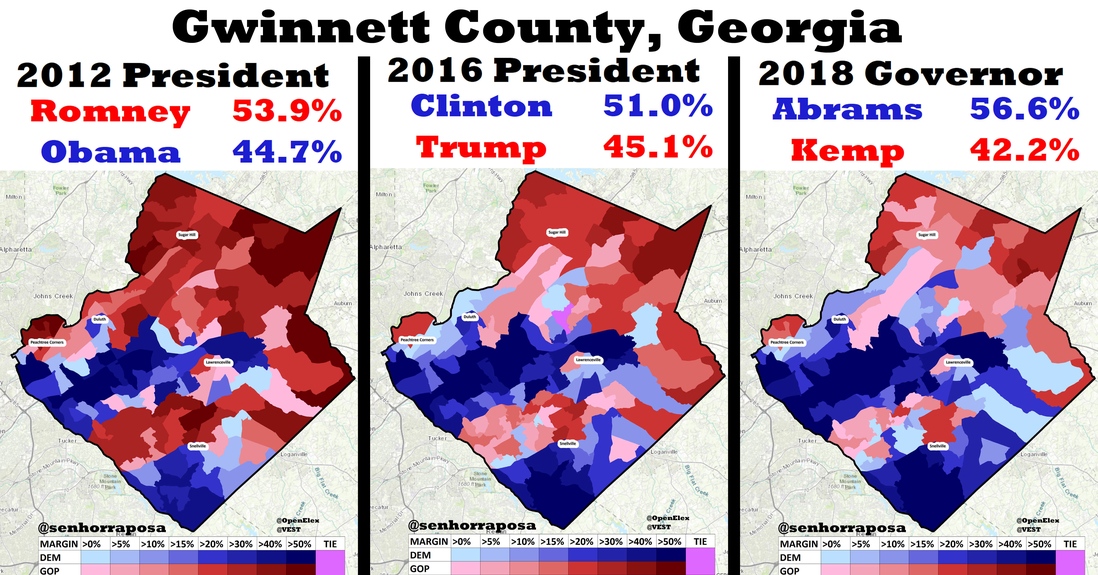 Trump faces considerable headwinds in this rapidly Dem trending county. A poor performance by the President is likely to drag down the few remaining local Republican officeholders with him.
For the first time in a long time, Democrats have a real shot at carrying Georgia in a presidential election. The emergence of Democratic strength in the Atlanta metro area merits watching the state and all indications are that Georgia will be one of the closest states this year. The only question is if Georgia flips, will it be a Virginia or a North Carolina? Virginia was a Republican bastion for years until it wasn't, and it hasn't looked back. North Carolina on the other hand remains one of the nation's most closely divided states.
---
Final Installment Next Week:

North Carolina
Reports in this series:
comments powered by

Disqus
Headlines