The Road to 270: Iowa
By Drew Savicki
October 19, 2020
The Road to 270 is a weekly column leading up to the presidential election. Each installment is dedicated to understanding one state's political landscape and how that might influence which party will win its electoral votes in 2020. We'll do these roughly in order of expected competitiveness, moving toward the most intensely contested battlegrounds as election day nears.
The Road to 270 will be published every Monday. The column is written by Drew Savicki, a 270toWin elections and politics contributor. Contact Drew via email or on Twitter @DrewSav.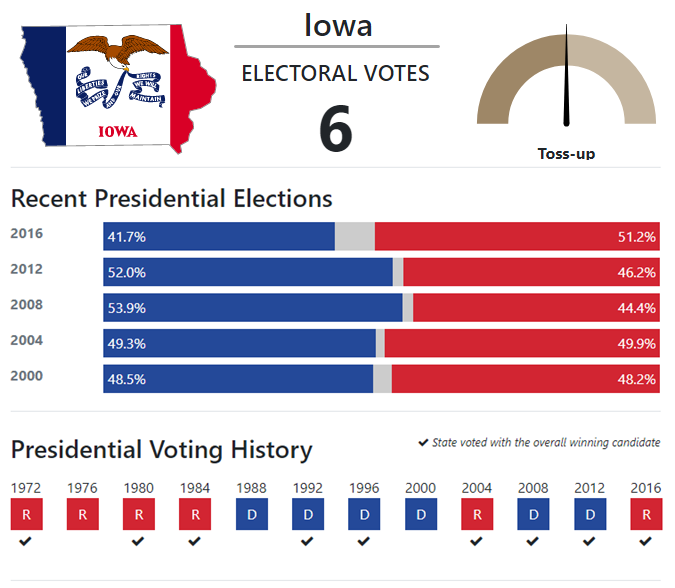 Home of the famed Iowa Caucuses, Iowa enjoys considerable attention every four years thanks to its small population and purple hue. Once a classic swing state, Iowa took a remarkable turn to the right in 2016 -- but there are signs the state is back on the radar. Following Donald Trump's commanding win in the state, Democrats largely thought Iowa was off the map in 2020. Recent polling indicates that while the Hawkeye State may not return to its Obama-era lean, the state is broadly competitive up and down the ballot. The COVID-19 pandemic has adversely affected Iowa's agricultural economy and has spread throughout the state's various meatpacking plants.
Geography
To understand Iowa, let us look at its political geography. Iowa's four congressional districts each represent a different region of the state.
IA-1: Northeast Iowa. Partially located in the 'Driftless Area', the 1st District includes several of Iowa's biggest cities, such as Cedar Rapids and Dubuque. Northeast Iowa is home to a number of smaller, blue-collar counties that voted for Obama twice before flipping to Trump in 2016. In the western part of the district is Howard County, which saw the largest swing towards Trump of any county in the nation.
IA-2: Southeast Iowa. Home to Davenport and the University of Iowa, this district includes suburbs and a number of working-class towns.
IA-3: Southwest Iowa. The most suburban of the four districts, Iowa's 3rd District is anchored in Iowa's largest city, and its state capital, Des Moines. Although it may not look like it on a map, the vast majority of the population in this district lives in Polk County. Of particular note here is the county west of Polk, Dallas. A traditionally Republican suburban county, 49% of the population here has at least a bachelor's degree and this seems likely to be a Trump/Biden county.
IA-4: Northwest Iowa. In close statewide races, this largely rural district is what keeps Iowa red. Of particular note is the northwestern part of this district -- this ethnically Dutch area is intensely Republican.
Congressional politics
As one of the swingiest states in the nation, Iowa sees significant turnover in its congressional delegation every few years. Republicans held three of the four seats after 2016; Democrats now hold the same margin after flipping two of those in 2018. Let's look at the state's three competitive congressional districts.
The 1st District is currently held by Democrat Abby Finkenauer. A former state representative, Finkenauer defeated Rep. Rod Blum in 2018 by five points. Finkenauer was one of Joe Biden's most prominent Iowa endorsers ahead of the Iowa Caucuses; going back further, she actually worked on his 2008 campaign. Widely regarded as a rising star in the Democratic Party, Finkenauer has sought to keep it local during her time in office but she faces a strong challenge from State Rep. Ashley Hinson (R). Hinson has widely been considered to be one of the strongest Republican House recruits. She has proven an excellent fundraiser but she faces a somewhat uphill battle. Amidst sinking Republican fortunes in the Hawkeye state, Sabato's Crystal Ball recently moved this race from 'Tossup' to 'Leans Democratic.' Republicans recently released an internal poll showing the race tied but Hinson was only at 45% of the vote. With statewide polling indicating a close race at the presidential level, it seems likely Biden will flip back this district, and thus carry Finkenauer with him.
Since he was elected in 2006, Rep. Dave Loebsack (D) has held down the swingy 2nd District in some tough years for Democrats, but is retiring this year. Loebsack, a former college professor, has proven very popular here and was not expected to face a competitive race this year. Running on the Democratic side is former State Sen. Rita Hart, who was the Democratic nominee for lieutenant governor in 2018. On the Republican side, State Sen. Mariannette Miller-Meeks is making her fourth bid for this seat, after losing to Loebsack in 2008, 2010, and 2014. While this is her best shot at winning the seat, she is still an underdog as the Crystal Ball rates this race as 'Leans Democratic.' In a better year for Republicans, an open seat like this would be a top tier pickup opportunity.
Of the three Democratic held seats, District 3 clearly has the most Republican lineage. But as the most suburban of the three, it seems to be Democrats' most secure seat in the state. Businesswoman Cindy Axne defeated Rep. David Young (R) in 2018 -- she's struck a center-left tone in the House and catered to her district's interests, with her committee assignments of Agriculture and Financial Services. Following Steve King's loss of his committee assignments, Axne is the sole Iowan on the House Agriculture Committee. Although this is an Obama/Trump district, it swung the least towards Trump of the state's four districts and its suburban nature means it is unlikely the President can carry it again. West of Des Moines, Dallas County, which Axne lost in 2018, may flip to her this year.

The 3rd district is under-discussed compared to the other three districts but there is clear weakening Republicans in the Des Moines area. Although Omaha, Nebraska may be trending leftward, the Council Bluffs area on the Iowa side of the border has trended more Republican in recent years.
Though the 4th District saw a competitive race in 2018, it was mostly due to the weakness of Rep. Steve King. In office since 2003, King was known for his controversial comments, which often had a racist overtone. In June, he lost his primary to state Sen. Randy Feenstra, who should be able to keep the seat more securely in GOP hands. Although King had become a pariah in the Republican Party by 2019, he was once a powerful kingmaker in Iowa politics. For years Republicans candidates would seek out his endorsement. Before he ran for President, Donald Trump was a supporter of King's and held a fundraiser for him in 2014.
Locked in a surprisingly competitive race this year is Iowa's junior Senator, Joni Ernst. A Republican who was the first elected in 2014, Ernst is a former state senator and Army veteran from southwest Iowa. Promising to go to DC and "make 'em squeal", she scored a surprisingly large primary win in 2014. In the general election, she faced then-1st District Rep. Bruce Braley (D), who was not a particularly strong candidate. Retiring Sen. Tom Harkin (D) was well-liked, but offered little help to the gaffe-prone Braley until it was too late. Buoyed by the national tide and the strong support of the state's popular senior Sen. Chuck Grassley (R), Ernst defeated Braley by eight points. In the Senate, Ernst has been a reliable party line vote, and until last year, maintained high approval ratings.
Initially considered a heavy favorite for reelection, Ernst's political fortunes have sunk as Trump's have in the Hawkeye State. Ernst is facing a strong challenge from Democratic businesswoman Theresa Greenfield. Greenfield has fundraised well -- in fact, in the third quarter of this year, she raised over four times as much money as the incumbent. In recent polls, Greenfield has opened up a small but stable lead, as Ernst is running behind Trump. It's clear that enthusiasm among Obama/Trump voters for the President does not necessarily translate downballot. Many of these voters were not Republicans before Trump came along and they still do not identify with the Republican -- that poses a problem for people like Ernst. Some handicappers rate the race as a 'Toss-up,' but the trajectory of the race has seemed to favor Greenfield.
Iowa's senior Senator is Republican Chuck Grassley. A staple of Iowa politics since the 1950s, Grassley first came to Congress in 1974 and then the Senate in 1980. Now President Pro Tempore of the Senate, Grassley remains one of the most senior figures in Congress. His longevity has allowed him to chair a number of committees over the years and gives Iowa considerable clout in Congress. Grassley has never faced a competitive reelection race. Now 86, it's unclear if he intends on running for reelection in 2022. His retirement would be a huge shakeup in Iowa politics and would likely spur any number of candidates on both sides into running. These days, Grassley is well known for his humorous twitter account, which is something of a departure from your typical member of Congress's social media presence.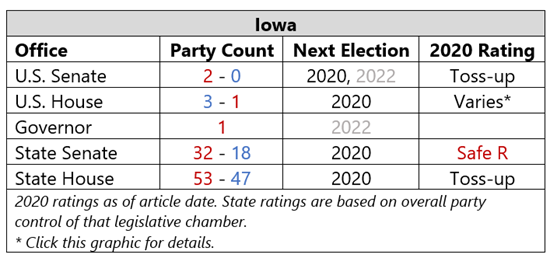 State level politics
Two of Iowa's current statewide officeholders are the nation's longest-serving officials in their respective positions. Attorney General Tom Miller and state Treasurer Michael Fitzgerald have been fixtures of state politics for years, with Miller having served in his position nearly continuously since the late 1970s.
There is perhaps no more iconic Iowa politician than Terry Branstad. A Republican, Branstsad began his career as a state representative in the 1970s before he was elected Lieutenant Governor in 1978. Branstad was elected Governor in 1982, and would serve in that position until he retired in 1998. He made a comeback in 2010 and served a second stint as Governor from 2011 until he resigned in 2017 to become U.S. Ambassador to China. Branstad is one of the most recognizable figures in Iowa politics and remains an in-demand surrogate for Republican candidates across the state.
A rising star in Iowa politics is state Auditor Rob Sand (D). The first Democrat elected Iowa's Auditor since the 1960s, Sand has emerged as popular Democratic campaign surrogate in the state. A former Deputy Attorney General under Tom Miller, Sand was elected in 2018 when he defeated incumbent Auditor Mary Mosiman (R). A bowhunting Democrat from small town Decorah, Sand pitches himself as a Democratic whisperer to his state's vast rural communities.
One of the unique things about Iowa is how it approaches redistricting. Iowa has a purely nonpartisan redistricting process that can not consider incumbency, competitiveness, or party registration. Iowa, along with West Virginia, is one of two states that does not split counties in its congressional map. In fact, Iowa's redistricting commission is bound by law not to split counties at the congressional level. The Iowa General Assembly is not legally required to adopt the map, though it has deferred to the commission since the 1980s.
The Iowa General Assembly uses 'nested' districts, meaning that two House districts are in every Senate district. The Iowa House is made up of 100 members and the Senate is composed of 50. Unlike other states where legislative districts have considerable population deviations, Iowa's are required to have as minimal deviation as possible. Although Republicans had full control of the state government in the last round of redistricting, they honored the traditional approach. Democrats are concerned that Republicans will not do so this time. If Democrats were to take the Iowa House this year, that concern would be moot.
A source of contention between the two parties in recent years is the federal ethanol subsidies. As Democrats have moved leftward on environmental policy, Iowa's ethanol subsidies are at risk the next time Democrats control the federal government.
Presidential politics
Every four years, Iowa enjoys a deluge of visits by presidential candidates on both sides, but the importance of its caucuses has clearly waned in recent cycles. On the Republican side, the past three winners of the caucuses didn't go on to win the nomination. For Republicans, Iowa is the first real test of a candidate's strength among evangelicals -- but evangelicals don't make up that large a portion of the Republican primary electorate. For Democrats, Iowa has increasingly lost its predictive value. The Democratic base in Iowa is considerably whiter and more liberal than the Democratic Party as a whole. Earlier this year, Joe Biden finished in fourth place in the caucuses. Biden's resounding victory in South Carolina propelled him to the nomination and many Democrats were left questioning why Iowa is still going first in the primary process.
This year's Democratic caucuses were plagued by technical issues and an accurate, complete count of the results was not entirely possible. Controversially, former South Bend, Indiana Mayor Pete Buttigieg declared victory on election night and was certified as the winner of the caucuses by the Iowa Democratic Party. The technical issues and the changing electorate of the Democratic Party leaves the future of the caucuses unclear. Republicans will continue to hold caucuses but it remains a real possibility that 2020 is the last Democratic caucus in Iowa. Every four years the caucuses bring in a considerable amount of money and losing them would be a major economic blow to the state. Regardless of whether Iowa switches to a primary or not, they may not get to go first again in future Democratic primaries.
Historically, Iowa was a reliably Republican state until the farm crisis of the late 1980s put the state back in the Democratic column, starting in 1988. The farm crisis propelled Michael Dukakis to a 10 point victory in the Hawkeye state, and Democrats would carry the state in the next three elections. In his reelection bid, President George W. Bush narrowly carried Iowa in 2004 even as John Kerry ran well in the upper Midwest. The state returned to the Democratic column when Barack Obama carried it by 9.5% in 2008 and then by about six points in 2012. So Iowa consistently voted more Democratic than the nation for many years -- and then along came Donald Trump.
In 2016, Donald Trump carried Iowa by over nine points, which was the largest Republican margin in the state since Ronald Reagan's 13-point win in 1980. His populist message resonated with small town voters throughout the state, as he picked up 32 counties that voted for Obama four years earlier. Following Trump's resounding victory here, Democrats largely wrote off Iowa. Four years later though, Iowa is once again a battleground. Polling shows Joe Biden is in contention and has a real chance at carrying the state. After ignoring Iowa for much of the year, President Trump recently returned to the state for a rally, the clearest sign yet that Iowa is genuinely in play.
As Biden has improved over Hillary Clinton with white voters across the board, Trump's chances in Iowa are looking more and more precarious by the day. This isn't a state Trump should need to worry about given his considerable margin here in 2016 but if he can't hold the Hawkeye State, he has few realistic paths to 270 electoral votes. Conversely, if Joe Biden can't win Iowa this year, it seems rather unlikely Democrats will give this state much attention again for a long time.
---
Two weeks until the presidential election. We'll wrap up the Road to 270 with North Carolina, home state of @DrewSav.
Next Week:

Georgia
November 2: North Carolina
Reports in this series:
comments powered by

Disqus
Headlines