Iowa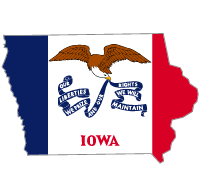 Iowa gained statehood in December 1846. Prior to 1988, the state mostly voted Republican, choosing a candidate from that party all but five times from the Civil War years through that year. While a battleground every four years, Iowa had sided with the Democrats in six of seven elections from 1992 through 2012. That changed dramatically in 2016, when Donald Trump won the state by nearly 9.5%, a 15 point swing from 2012 when Barack Obama won the state by 5.8%.

Iowa has gradually lost electoral clout as the state's population growth has been slow relative to the rest of the country. With six electoral votes today, the state has fewer than half of the 13 it had from the 1880s through the 1920s. Despite this, the closeness (usually) of the general election vote and the importance of its caucuses, which kick off the nominating process every election cycle, give the citizens of the Hawkeye State outsized influence on who ultimately gets elected president.
Voting History
State voted with the overall winning candidate
Electoral College Votes
Colored bars represent electoral votes by party. Hover to see names. 2020 electoral votes shown in dark green until after the election.