The Road to 270: Montana
By Drew Savicki
May 11, 2020
The Road to 270 is a weekly column leading up to the presidential election. Each installment is dedicated to understanding one state's political landscape and how that might influence which party will win its electoral votes in 2020. We'll do these roughly in order of expected competitiveness, moving toward the most intensely contested battlegrounds as election day nears.
The Road to 270 will be published every Monday. The column is written by Drew Savicki, a 270toWin elections and politics contributor. Contact Drew via email or on Twitter @DrewSav.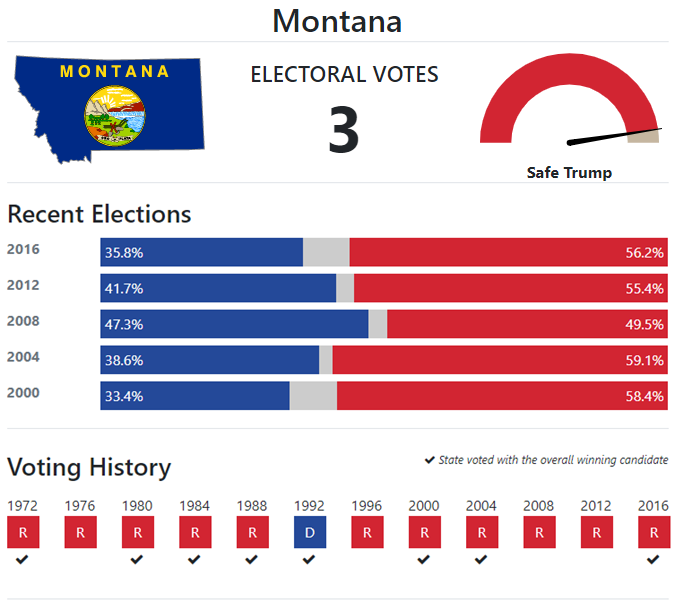 According to the Almanac of American Politics, Montana's first white settlers were prospectors looking to mine the mountainous western part of the state for gold, silver, and copper. Later arrivals to the state were ranchers and wheat farmers, who made their homes in the flatter eastern part of the state. Politically, miners favored Democrats -- and would eventually organize into unions -- while farmers in the east voted Republican, like their counterparts in other Great Plains states. From the onset, this geographic tug-of-war produced a state with a vibrant political scene.
While these previous divisions have given way to a more modern urban/rural polarization, there are traces of history in the state's political landscape. Montana is just one of three states west of the Mississippi River that supported Donald Trump in 2016 but lack right to work laws, a reflection of its pro-labor history (the other two are Alaska and Missouri).
At the presidential level, Big Sky Country is thoroughly Republican territory -- the last Democrat to carry its 3 Electoral College votes, Bill Clinton in 1992, did so with just 38% of the vote.
In the final weeks of the 2008 campaign, Barack Obama made an aggressive push for The Big Sky State. The McCain campaign never considered Montana a battleground state but the Democrats made a serious push for it. Montana was an unusual target for Democrats, with the state having voted Republican in the past several presidential elections but the presence of Rep. Ron Paul (R-TX) on the ballot made it a target. The arch libertarian conservative Paul was on the ballot as the Constitution party's nominee, despite not actually campaigning for the nomination. Montana was an unlikely battleground in 2008. The state is heavily white, rural, and gun friendly but Obama's message powered him to a remarkable 47% of the vote. Looking down the ballot, though, Montana has been more open to supporting Democratic candidates than its neighboring states. As a result, this red state should feature several competitive contests this year.
Down ballot: a flattop hero and prairie populism
Throughout the last century, Montanans have made clear distinctions between their presidential and senatorial preferences. Since the 17th Amendment established the direct election of senators -- beginning with the 1914 congressional elections -- Montana has only elected three Republicans to the Senate. In the 26 presidential elections that have taken place since then, it favored Republican nominees in 18 contests.
Of the state's current roster of elected leaders, perhaps the career of Sen. Jon Tester (D) best exemplifies the moods and character of state politics. Literally level-headed (thanks to his trademark flattop haircut), Tester grew up on his family farm and lost three fingers in a meat-grinding accident. He was elected to the State Senate in 1998 and by 2005, had risen to become its President. Though President Bush carried the state twice by easy margins, his popularity had slipped by the 2006 midterms.
With his time in the state senate, Tester was well-positioned to challenge then-Sen. Conrad Burns (R), who was seeking a fourth term. Despite some liabilities, Burns was no pushover -- in fact, as of this writing, he is the only GOP senator Montanans have ever popularly reelected. In an expensive race, Tester emphasized his rural background and accused the septuagenarian Burns of losing touch with the state. Tester won that race by fewer than 3,600 votes out of the over 406,000 cast -- it was the closest raw-vote margin of any senatorial race that year, and ultimately helped flip control of the chamber to Democrats.
If Tester was running against an unpopular president in 2006, Republicans were hoping to flip that dynamic in 2012. That year, the GOP was optimistic about beating him and landed a top recruit in Rep. Denny Rehberg, who had represented the state in the House since 2001. Rehberg emphasized the unpopularity of the Affordable Care Act, and most polls gave him the lead. On Election Day, Tester's down-to-home image seemed to endure: as Mitt Romney carried the state 55%-42%, he was reelected by four percentage points.
In 2018, Tester was running as a senator from the party out of power, but another close race seemed in the cards. His voting record was more liberal than other red state Democrats up that year. After making multiple visits to Big Sky Country that cycle, it was clear Trump was on something of a personal mission to beat Tester. In this small state where local connections are paramount, what may have saved Tester is that he was still able to 'out-Montana' his opposition. He faced state Auditor Matt Rosendale (R), who had moved to Montana in 2002 from Maryland; questions about his residency played prominently into Democratic attacks. In the end, Tester was reelected with 50.3% -- the first of his three races that he earned a majority of the vote in.
Tester's success over the years exemplifies how Montana sometimes behaves more like a purple state than a solidly red one. Representing a state with the third highest proportion of veterans in the nation, Jon Tester has made veterans issues a key priority during his time in Congress. Two of Tester's committee assignments -- Indian and Veterans' Affairs, reflect the needs of his state well. A living embodiment of Prairie Populism, Jon Tester should serve as a model to other red state Democrats.
Geography
As with Montana's early days, the east/west divide is dominant. Though the state today has a sole at-Large congressional district (MT-AL), it had two from 1913 to 1993: one covering the western half of the state and the other the eastern half. Some projections have it regaining its second seat after the 2020 Census. If Montana secures its second seat, the familiar east-west split seems likely to emerge.
Western Montana. Nestled in the Rocky Mountains, western Montana is home to three of the five largest cities in the state (Missoula, Bozeman, and Butte) as well as the state capital of Helena. The bulk of the growth in the state has been in the western half, particularly Gallatin County (Bozeman), the sole Romney -> Clinton county in the state. Missoula County, which houses the University of Montana, often gives Democratic candidates their largest raw vote margin of any county. Lake County -- just north of Missoula -- is one of the state's prime political bellwethers.
Eastern Montana. Though mostly rural, this region is home to the state's largest city, Billings, as well as the bulk of the state's Native American population. Still, as with the Great Plains states, eastern Montana is dominated by sparsely-populated but strongly Republican counties -- the reddest county in the state, Garfield, gave Trump 91% in 2016, but cast just 718 votes. In fact, if the state's old eastern-based Second District were in place, it would have given Trump a 63%-30% vote.
Congressional politics
In a state that's produced more than its fair share of consequential lawmakers, it's worth pointing out that Tester holds the seat of the most prominent senator in state history: Democrat Mike Mansfield. Mansfield was the longest-serving Majority Leader ever, leading the chamber from 1961 to 1977. As Majority Leader, he was charged with passing Lyndon Johnson's civil rights and Great Society bills through Congress. On foreign policy, though, Mansfield would emerge as a critic of LBJ's efforts in the Vietnam War. His pacifist tendencies seemed reminiscent of another prominent Montanan: Jeannette Rankin. The first woman elected to Congress, Rankin was the only member of Congress to have voted against U.S. entry into both World Wars. Another popular figure in Montana politics in recent years was the longtime Senator Max Baucus (D). Baucus, a conservative Democrat was known as a champion of Montana's industries. Baucus was ideologically to the right of his caucus on guns and environmental issues but he proved to be a solid fit for his state.
In 2014, Sen. Steve Daines became the first Republican ever to be popularly-elected to the state's other seat. A conservative Republican, Daines served one term as the representative for Montana's At-Large Congressional District (MT-AL) before he was elected to the Senate. Like Alaska's Dan Sullivan, Daines lacks the distinct political identity of his state's senior Senator. As a Congressman and now Senator, Daines has a been a reliable vote for the Republican majority and closely tied himself to the President. Although he easily won the open seat in 2014, Daines won't be sailing smoothly this time. He faces a competitive race from Governor Steve Bullock (D). Although polling suggests the race is a tossup, the partisan lean of Montana in a Presidential year warrants caution. No doubt Bullock will run ahead of the Democratic presidential nominee (almost certainly Joe Biden) and is a strong candidate in his own right, but he'd still need a significant chunk of Trump voters to defect. In this increasingly polarized era, voters aren't splitting their tickets as much as they used to -- this is why Sabato's Crystal Ball is keeping the race at Leans Republican.
First elected to the House in a 2017 special election is the controversial businessman Greg Gianforte. Most known for his assault on The Guardian reporter Ben Jacobs, Gianforte has kept a low profile during his time in the House. In 2016, Gianforte was the Republican nominee for Governor against Steve Bullock and is running for Governor again this year. The founder of a customer relationship software company, Gianforte was heavily targeted by Democrats in the 2018 midterms. The Bozeman native was ultimately successful in his reelection bid despite the millions in spending by outside groups. Despite the success Democrats have found at the Senate level, the state's sole US House seat has proven elusive since Rep. Pat Williams (D) retired in 1997.
Even if Democrats lose the House race this year, they may have hope in 2022. As discussed earlier, Montana seems posted to regain its 2nd Congressional District following the 2020 Census. The redistricting process is controlled by a five-member independent commission, consisting of two members from each party and a Chair elected by the four members. Redistricting is likely to result in another east/west split -- Republicans will undoubtedly keep the eastern seat, while the western district will likely be only light red, giving Democrats an opening.
State level politics
At the state level, the GOP controls both chambers of the legislature and most statewide offices. 2016 proved to be something of a breakout year for statewide Republicans. Going into that cycle, Republicans only had one row office, the Attorney General; currently they have everything but the governor and lieutenant governor's offices. Democrats have actually won the last four gubernatorial elections, with Brian Schweitzer (2005-2013) and Steve Bullock (2013-present).
Montana is a relatively insular state, making authenticity a key factor in state races. To that end, Democratic success at the gubernatorial level has relied on genuine candidates. A modern prairie populist (and at times controversial), Schweitzer is a lively character with a penchant for sporting bolo ties. The more low-key cowboy-esque Bullock is a former state Attorney General who first ran for Governor in 2012, promising a continuation of Schweitzer's policies. The GOP nominated a capable candidate in former Rep. Rick Hill that year, but Bullock narrowly prevailed. Bullock's reelection in 2016 was especially impressive, considering Trump's 56%-35% margin in the state. This year, the Montana gubernatorial contest is looking like a true toss-up, with competitive primaries on both sides.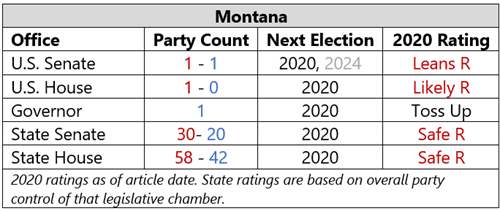 Presidential outlook
Montana's three electoral votes seem safe for President Trump, but don't be surprised if the margin of victory is narrower than in 2016. As political science professor Jacob Smith has documented, Montana consistently swings against the incumbent President. The Big Sky state is home to one of the nation's most reliable bellwether counties: Blaine County. Home to the Fort Belknap reservation, the county is split evenly between Native Americans and whites. Blaine County has voted for the winner of presidential elections all but twice in its entire history (its only misses being 1912 and 1988). In 2018, Sen. Tester improved on Gov. Bullock's 2016 showing there, illustrating the importance of Native Americans to the Democratic coalition in the state. Likely Democratic nominee Joe Biden is unlikely to make a major push for this ruby red state but it will see a great deal of spending downballot. With competitive US Senate, US House, Gubernatorial, and state legislative races there's a lot to look at in the Big Sky Country this year.
Next Week: Delaware

Reports in this series:
comments powered by

Disqus
Headlines