March 17 Primaries: Overview and Live Results
By 270toWin Staff
March 17, 2020
Live Results
Illinois and Ohio (postponed) hold their regular primary elections as well. We'll have results for any contested congressional races.
---
Polls Close (Eastern Time)
Your individual polling place may have different hours. Do not rely on this to determine when to vote. Total Democratic pledged delegates by closing time are displayed.
| | | |
| --- | --- | --- |
| 7:00 PM | 0 | Florida [ET]1 |
| 7:30 PM | 136 | Ohio - Postponed (136) |
| 8:00 PM | 374 | Florida [CT] (219), Illinois (155) |
| 10:00 PM | 67 | Arizona (67) |
1 Most of the state is in this time zone. Some results may display during this hour, but no race call will be made until all the polls are closed.
---
Democratic Polling Averages & Delegate Estimates
Joe Biden is polling well ahead of Bernie Sanders in each of three states going forward with their scheduled primaries. While Sanders is expected to earn delegates, the end of the night may see the former Vice-President's delegate advantage more than double.
For polling detail, see the Democratic nomination home page. Select a state on the map. To see delegate information for completed contests and create your own forecast, see the interactive delegate calculator.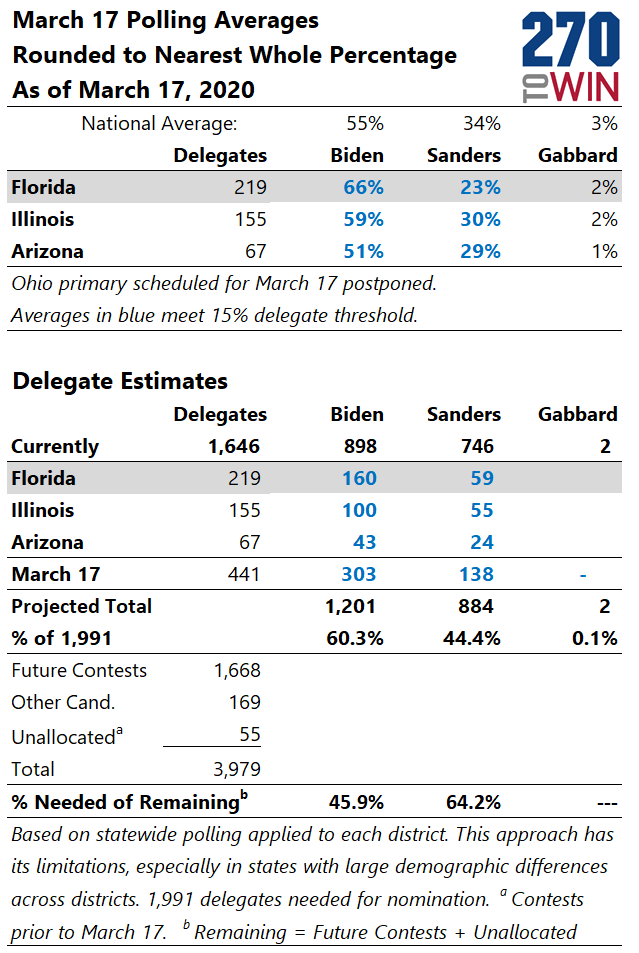 ---
Recommended Reading
How to Watch Tuesday's Primaries Like a Pro - Politico provides an overview of the states voting today.
Final Forecast for Arizona, Florida and Illinois - FiveThirtyEight's forecast for the three states holding primaries today. Joe Biden is expected to sweep all three contests.
Ohio Supreme Court Allows Delay to Primary - A confusing court battle played out Monday and early Tuesday. Bottom line is no Ohio primary today. A suggested new date of June 2 is tentative.
comments powered by

Disqus
Headlines